The Victoria's Secret Fashion Show Has Officially Been Canceled This Year
by Cassandra Stone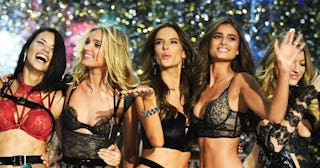 Pascal Le Segretain/Getty
Company officials say there won't be a Victoria's Secret fashion show this year
The Victoria's Secret fashion show has been something of a staple every holiday season. Not this year, though. The brand — which has seen its fair share of well-earned bad publicity of late — announced it's officially canceling the show for 2019.
"We think it's important to evolve the messaging of Victoria's Secret and that is happening in certain respects now," CFO Stu Burgdoerfer tells the Columbus Business Journal. "We will be communicating to customers but nothing similar in magnitude to the fashion show. We will communicate to customers through lots of vehicles including social media and other channels."
Victoria's Secret hasn't exactly been known for its diverse models or size inclusivity, which can't be good for business in 2019. Additionally, Les Wexner, CEO of L Brands, parent company of Victoria's Secret, is known for a close connection to pedophile billionaire Jeffery Epstein, who served as Wexner's financial adviser. Not a great look for the brand overall, really.
Last year, chief marketing officer Ed Razek, explained why he didn't feel the need to cast plus-size models in the televised fashion show.
"I think we address the way the market is shifting on a constant basis. If you're asking if we've considered putting a transgender model in the show or looked at putting a plus-size model in the show, we have," he said. "We invented the plus-size model show in what was our sister division, Lane Bryant. Lane Bryant still sells plus-size lingerie, but it sells a specific range, just like every specialty retailer in the world sells a range of clothing. As do we. We market to who we sell to, and we don't market to the whole world."
Ah. Well. It appears that isn't working out too well for the brand overall, eh?
The entire interview with Razek was extremely fat and transphobic, and he continues to implore that Victoria's Secret couldn't possibly be "all things" to all customers. "It's like, why doesn't your show do this? Shouldn't you have transsexuals in the show? No. No, I don't think we should. Well, why not? Because the show is a fantasy. It's a 42-minute entertainment special. That's what it is."
Burgdoerfer says the company is "figuring out how to advance the position of the brand and best communicate it to the customer." The 2018 show aired on ABC and reportedly had the lowest ratings ever for the event, drawing a 0.9 rating and 3.3 million viewers. It lost half its viewership in just a few years.
While the company explores different "marketing channels" for the future, perhaps it'll consider actual inclusivity. If they want to exist in 2020 and beyond, they might want to start marketing to everyone.