Console Your Bored Gamer With These 10 Video Game Coloring Pages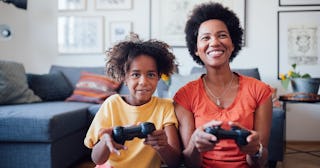 Brothers91/Getty Images
Let's be honest: Video games aren't just for your kids. In fact, we can prove that they're not. According to a survey, more than 214 million people in the United States today play video games one hour or more per week. And who's playing? Sixty-four of U.S. adults above 18, while 70 percent of those under 18 regularly play video games. It makes sense. Chances are you're either a gamer or a "can't beat 'em, might as join them" type — because real talk, video games are just plain fun. If you're here, then you know this. And you're looking for even more gamer-themed entertainment to enjoy with your kiddos (or on your own, no judgment). In which case, you came to the right place! We've got an entire collection of video game coloring pages sure to delight any video game enthusiast.
After all, you love video games, and why wouldn't you? It's an engaging way to pass the time. No wonder an estimated 2.7 billion people played video games in 2020 alone (thank you, quarantine). Video gaming has come a long way since 1971 when the first video arcade coin-operated video game was commercially sold. Ha! Arcades! Remember those things? Now, video games can come in small, hand-held consoles, and your kids have no idea just how good they have it.
Speaking of kids, you may be considering limiting their screen time a bit when it comes to video games. Enter our collection of free video game printables. Because if they can't play video games 24/7, then at least they can color them. Boom. We've created cool and creative video game coloring pages and — bonus! — they're all free. So, grab your crayons, and let's get to coloring. And if you want to level up the entertainment quotient once this collection is complete, check out our Pokémon coloring pages, toy coloring pages, and train coloring pages.
Free Printable Video Game Coloring Pages
Video Game Page No. 1
Nintendo is arguably one of the most recognizable game consoles. The Kyoto-based company started as a card and toy manufacturer and became part of the young gaming market in the 1970s. It celebrated its 125th anniversary in September 2014, although some of its gaming systems are now obsolete. The last original Nintendo 64 cartridge made was a Tony Hawk Pro Skater game released in 2002.
Video Game Page No. 2
Mortal Kombat is one of the most successful fighting games of all time, which is impressive considering it was developed in 10 months by a team of four people.
Video Game Page No. 3
Remember Super Mario Bros., the movie? Legend has it a little-known "up-and-coming actor" named Tom Hanks campaigned for the role of Mario but lost it because he wasn't popular enough!
Video Game Page No. 4
Video games aren't just for the thrill of it. In fact, studies show that playing action video games trains people to make the right decisions faster by developing a heightened sense of surroundings and helping them multitask.
Video Game Page No. 5
Chun-Li from Street Fighter II was one of video gaming's first playable female characters and is still considered one of the best female characters of all time.
Video Game Page No. 6
Nintendo's Donkey Kong introduced the world to the character Mario in 1981. Since then, the franchise has spawned more than 200 games of various genres and several sub-series starring him (and his brother, Luigi).
Video Game Page No. 7
The popularity of the Mario Bros. game was so immense in 1983 that there was a massive increase in the number of people naming their children Mario during that time. Do you know any Marios in your life? Chances are they were named after a video game. Although, interestingly, Mario's original name was actually Jumpman!
Video Game Page No. 8
Gaming changed for the modern world in 2005 and 2006 when Microsoft's Xbox 360, Sony's Playstation 3, and Nintendo's Wii kicked off the modern age of high-definition gaming.
Video Game Page No. 9
Everyone has their own likes and dislikes, but, generally, Atari's E.T. the Extra-Terrestrial, is largely considered the worst video game of all time. However, unsold copies of the game were eventually sold on eBay for around $108,000. And speaking of E.T.'s realm, can you guess the first video game to be played in outer space? It was the Game Boy version of Tetris. Russian cosmonaut Aleksandr Serebrov played it on a space mission.
Video Game Page No. 10
Nearly 1000 gaming consoles (960, to be precise) have been released since the first generation of home video game consoles. Apparently 1,181,019 video games exist. And with the total number of gamers worldwide expected to rise to over three billion by 2023, more games and more screen time are practically a given!
Click here to print all of the video game coloring pages at once!
This article was originally published on