Stranger Stops Traffic To Help An Elderly Man Cross The Street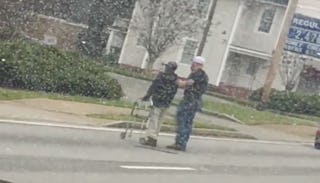 Image via Facebook/ E'Ondria Weems
Jackson is the Good Samaritan we all need right now
In today's society, we're used to waking up to news that makes us shake our head in frustration or anger. But sometimes a moment is captured that's so heartwarming and pure you think to yourself "there are still good people left in this world."
E'Ondria Weems was driving in Griffin, Georgia last weekend when she saw a man with a walker trying to cross a busy road in the rain. That's when a man in front of her jumped out of his truck to help, using the truck to block traffic in one direction. Weems was so overwhelmed she started taking video with her phone and shared the sweet moment on Facebook.
"Y'all this man stopped traffic to help him… & my heart," she wrote. Little did she know her post would reach millions of people in just a few short days. So, who's this wonderful man? His name is Justin Jackson, he's a father of five, and he's won the hearts of people everywhere with his act of kindness.
"I just got out and did what I needed to do," Jackson explained to 11alive. "He was coming from that side and he was already halfway in that side of the lanes. I was coming at him and he was in my lane and that's… he said he was just trying to go to the gas station."
He also told the station he watched his dad do similar things and learned about helping others from him. Two of Jackson's kids were in the car with him at the time and were able to watch their dad set an example for them to now follow in the future. Talking to our kids about how to behave is one thing; showing them by our actions is something entirely different.
"It was so nice of him to do that," Weems told WXIA-TV. "Makes you think there are still nice people in this world."
Although he didn't know someone was recording his good deed, which millions have now witnessed, Jackson told 11Alive, "It makes me feel good because it's obviously making other people want to do good, too. And that's the ultimate goal – make everyone do good."
It only takes a minute to be kind and help someone in need. But doing so can make all the difference in the world.
"I just did what I would want someone else to do," Jackson said.
This article was originally published on