Powerful Video Shows Process Of Manually Moving Breech Baby
by Julie Scagell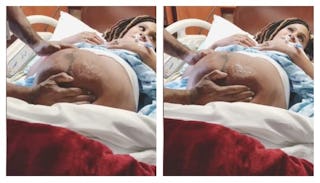 Image via Nick and Vanessa Fisher
The expectant mom was thrilled doctors were able to reposition her breech baby
Every pregnancy is magical. Sure, it may not always feel like it to every woman, but the thought of bringing another life into this world eventually makes it all worth it. One woman shared what she went through to try to have the birth she'd imagined as a way to offer hope, and choice, to others going through something similar.
Nick and Vanessa Fisher shared a powerful video on their Facebook page showing the process of successfully turning a breech baby. "Dr. Cummings performs a successful External Cephalic Version [ECV] to turn our breech baby at 38 weeks," Fisher wrote. "Prior to the procedure, we attempted a number of other methods to turn the baby naturally. Ultimately, our goal is to avoid a cesarean section by any means possible."
The expectant mother of one told Scary Mommy that it was important to her to share the video "to make others aware that there are options available to them, as well as professionals who are dedicated to seriously considering and honoring the desires of mothers through pregnancy and child birth."
She said their midwife suggested several other options to reposition the baby, which they tried at home with no success.
A breech baby is one that's positioned with it's butt or feet coming through the vaginal canal first instead of the head down, positioned toward mom's back. Most babies settle into this position on their own within the 32nd and 36th weeks of pregnancy, but when they don't, an ECV can be administered to try to move the baby into position manually and works about half the time.
Though this procedure can be successful, it's not ideal for everyone. According to Health.com, even with a successful version some babies will flip back before delivery or need a C-section regardless because of the baby's position. Also, women must meet certain medical requirements like having enough amniotic fluid, not being overweight or having diabetes before they would be considered a candidate. Finally, the procedure can be extremely painful, so talk with your doctor about possible pain medication options if this is a concern.
"My husband and I gladly shared a glimpse into our journey through this pregnancy not to imply that what we chose was right or wrong, but that it was elective," Fisher told Scary Mommy. "And the icing on the cake — it was successful!"
In most breech pregnancies, a C-section is recommended for the health of the baby. For the Fishers, they weren't willing to accept that possibility without trying every available option first.
"I believe that women should trust their bodies and the process," she said. "It is easy, in wanting the best for yourself and child to rely heavily on the opinions of medical professionals that we trust to be specialists, but unfortunately, sometimes there are ulterior motives."
Ultimately, Fisher believes all women need to do what is right for them. "I think that the more that we educate ourselves and trust our instincts, the better equipped we are to make good personalized decisions for ourselves."
This article was originally published on