I Rented A Violin Because 'Someday' Is Today, And I'm Sick Of Putting Myself Last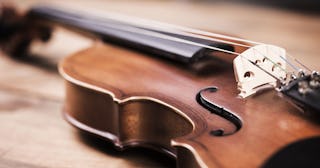 Aleksandar Grozdanovski/Shutterstock
For as long as I can remember – since I was a teenager for sure, maybe earlier – I have told myself that "someday," I'll learn to play the violin. I had this vision of what my life might be like, and thought that one day, when my kids were grown, when I wasn't so busy with work, when I had some extra cash, when I had lots of free time and was looking for ways to fill it, I would get myself a violin and learn how to play.
I filed the thought away and waited for someday.
In the meantime, life happened. I graduated high school, went to college, then law school, got married. I worked hard at a job, then worked hard at raising kids, then worked hard at doing both.
Someday waited.
There were different houses and different jobs and different parenting challenges as my kids went from toddlers to grade schoolers to tweens and teens.
Someday continued to wait.
Meanwhile, I justified all the waiting. That was just a silly thought, I told myself. You don't have enough time anyway.
Then, a few weeks ago, when I was visiting family, I asked my niece to show me how to play a few notes on her violin. She did, and then came back all those ideas of one day learning to the violin… you know, someday.
Maybe I'll put it on my Christmas list, I thought. If it's a gift, then I could justify the time and money.
Then last week, while talking to my therapist, the topic came up. I told her that I wanted to play the violin but it felt too frivolous, too silly, too selfish. DO IT, she said.
Later that day, I told my husband about this conversation. While procrastinating various projects, I had done a little internet research and found a violin store nearby that rented them for those cost of a few Starbucks treats a week. "DO IT," he said. "Go get it now."
I rattled off all the reasons I couldn't or shouldn't – I had work to do, there wasn't enough time, it felt too frivolous.
DO IT, he said.
"I feel like I don't deserve it, like it's too good to be true," I rationalized.
"You should get it," he persisted. "NOW."
He grabbed my keys and led me to the door, then the car.
"Am I really doing this?" I asked.
"Yes. And good for you."
Forty minutes later, I was home with my brand new, rented violin that I have absolutely no idea how to play, and very little "free time" to learn how.
But still…someday is today.
There were about a million reasons to not do it – not enough time, it felt too indulgent, lessons can get expensive, it feels a teensy bit selfish, blah, blah, blah, you know the drill – but I'm so grateful for the conversation with my therapist and for my husband practically pushing me out the door before I could change my mind. Because someday is today.
And I'm downright giddy about it.
We parents – mothers in particular, I suppose – have this way of shoving our own wants and needs aside. "Someday" becomes our theme song. Someday we'll write a novel. Someday we'll go back to school. Someday we'll take a cooking class.
But why can't someday be today?
What I'm realizing is that there will never be enough time. We'll always find ways to dismiss these things as frivolous or indulgent. And our kids will always need us. At least I hope they do a little bit. But as much as we hate to admit it, we aren't getting any younger and we aren't promised tomorrow.
So whatever it is that has been gnawing at you, do it. Maybe you can't do it the perfect way you envisioned, maybe it looks a little different than you'd like, maybe it takes a little longer and you go a little slower. These things aren't frivolous and they matter. You matter.
I've had my violin for a week now and just seeing its case on the table makes me happy. I don't know how to play, though I do know a few more notes than I did a week ago, and I haven't magically found "free time" to practice. But I love it and I'm oddly proud of myself for trying to learn something new. And when I think back to those dreams of one day learning to play, I feel like I truly "made it."
Someday is today.
This article was originally published on