Girl Finds Dried Up Fish In Her Car, Moms Everywhere Say 'HOLD MY BEER'
by Valerie Williams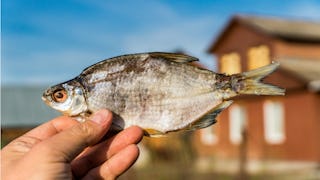 Image via Shutterstock
A dried up fish is child's play, sister
A woman shared photos of a dried up fish she found in her car and while it's unquestionably weird, as moms, our weird-o-meter is a little…skewed. We encounter so much strange and disgusting shit on a regular basis that a dry goldfish between car cushions is simply no biggie.
Because once you're a parent, nothing can shock you anymore.
The photos quickly went viral because, what the fuck.
"A fish. A fucking fish. In my passenger seat cushions," Mashable reports she wrote.
"HOW DID THE FISH EVEN GET IN THERE? I HAVE MY DOORS LOCKED. I HAVEN'T BEEN TO A LAKE SINCE I GOT THIS CAR. HOW THE FUCK DID A FISH GET INTO MY CAR."
And moms everywhere are like, "Do you have kids, by chance?" because that would explain pretty much any errant, foreign, and/or nasty item found where it doesn't belong.
We feel this way because we've seen it all. The bottoms of our purses are pretty much a breeding ground for any bacteria known to man. You could lick our cell phone screens after our kids have played Bubble Guppies and become fully immunized from the germs coating it. We pretty much need Hazmat suits to clean out our cars, so forgive us if we think a dried up fish is weird and gross, but nothing to bat an eye at.
On a regular day, we find things like sippy cups that have been missing for four months rolling around under the driver's seat, milk curdled and solid. We find petrified food items and sometimes even stray turds underneath our children's car seats. Hell, we find shit smeared on the walls!
Literally nothing is sacred.
Reach into the average mom's purse or diaper bag and expect something to bite back. They're not clean places, we won't lie. Ask any of us the weirdest thing we've found in a place where it doesn't belong and the answers will all be different because life as a parent is a nonstop shitshow. For me, it was chunks of chewed-up hot dog my kid decided he didn't want dropped into my shoe at a family party. Totally normal, unfortunately.
And I'm not alone.
https://www.instagram.com/p/BT6S4QmB6vw/?tagged=mompurse
That there's a dirty diaper. Who among us hasn't been there?
All day, every day.
Bribe M&M's, because of course. Show me a mom who doesn't have these rattling around her purse.
https://www.instagram.com/p/BRhiI1RFs2O/?tagged=mompurse
Gross shit in the car? Yup, we've been there.
This article was originally published on