I Made The Baked Feta Pasta Going Viral On TikTok And It's Freaking Delicious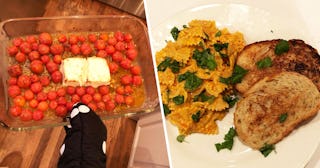 Courtesy of Katie Bingham-Smith
My daughter and I love cooking together. We are both salty-carb gluttons, so when she sent me exactly one-thousand TikTok videos on this recipe which involves baking tomatoes with a block of feta which is slathered in olive oil, spices, and salt, I was all in.
Not only did it look easy to whip up for a Friday night meal, I knew everyone in the family would like it. Who doesn't like cheesy pasta?
As soon as I wrote it down on our List Of Things To Do For Winter Break, I got a ping on my phone. It was my sister asking if I'd tried it yet. It had become a family staple for her and her family and she described it as a "gourmet mac n' cheese" that her whole family loved.
She had me at "mac."
I went out to get all the ingredients, and my mind was going wild about all the different variations I could make. Let's just say I was practically in a pasta and cheese coma before I left the grocery store.
All you need for this dish (which will make your house smell like a five-star Italian restaurant) is pasta of your choice (we used bowtie), feta cheese, fresh basil, garlic, olive oil, garlic, dried Italian season, and salt and pepper.
However, you can really get creative here and leave things out to substitute certain things if you want.
For example, I forgot the Italian seasoning and had oregano on hand so we used that instead. It was dyno. Also, my sister highly recommended grated lemon zest.
As far as I'm concerned, you can't mess baked feta up.
Let me tell you, I knew I'd like it … but I didn't know I'd be standing over the kitchen sink the following morning eating the cold leftovers. It was that good.
After you slather the feta with olive oil and surround it with veggies and spices, you let it bake away. When it's done, that's when the magic happens: the best part of making this was smashing the cheese and tomatoes together with the back of a big wooden spoon. I wanted to be the one to have control over this step, but alas, I let my daughter do it since she was bursting with excitement.
We smashed it all down and decided to throw the sauce into the blender to see what would happen. I knew in that moment if I had been on a baking show, I would have won for creativity.
Before mixing the silky-ness in the pasta, we tried the steaming, creamy sauce. Then we tried it again. After a few spoonfuls we decided we should add the pasta and not eat it all but damn, it took more willpower to stop doing that than it did to stop anger-eating a bag of chips during my shark week.
This dish has the most wonderful tang and is going to be our new favorite comfort food for sure.
My daughter had three helpings, which never happens, and we grilled up some sourdough bread to go with it for sopping up the extra sauce — which was another brilliant idea.
Next time, I think I'll add some chicken to the dish. We are also dying to try it with some mozzarella, although I think I'll still want feta in there too because of that sharp taste I love.
There are endless possibilities as far as the veggies go: Eggplant, mushrooms, onions, peppers — you literally cannot go wrong with this dish.
As soon as it's safe to have gatherings I'm going to show off and bring this dish to a dinner party. I just hope I beat my sister to it. Better yet, maybe she and I will have a baked feta cookoff.
If you are looking for an easy, absolutely sinful meal to make for your family (or yourself), please do your taste buds a favor and try this one.
There is a reason it went viral and people are a bit obsessed with it.
Now, I'm happily one of them.