Chrissy Teigen's Just Discovered How Amazing The Library Is -- And She's Not Alone
by Cassandra Stone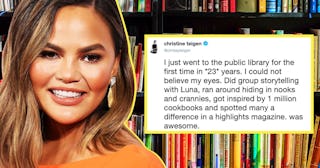 Chrissy Teigen/Twitter, Bennett Raglin/Getty and Pixabay
Chrissy Teigen just learned all the wonderful things local libraries have to offer, and so did tons of other people
Libraries are magical. Truly. It's not only a place where book lovers can congregate and get lost in a horde of books, but they also offer unlimited resources for children, teens, and adults of all ages. For FREE. So when a viral tweet started making the rounds where a young woman showed her enthusiasm for learning everything a library can offer, it's no surprise the internet came through with lots of love for their local libraries — led by none other than cookbook author and Twitter queen, Chrissy Teigen.
The tweet in question shows an Instagram story where the original poster was more than excited to share her excitement about her own library.
While the person who tweeted the Instagram story was poking fun at the photo, the internet came through to save the day. Because honestly, not everyone is aware of everything libraries have to offer. They're an amazing resource for job hunting, assuring everyone can have access to the internet, an endless selection of both physical books and e-books, printers, bi-lingual resources, classes of all kinds, children's programs for babies through young adults — the list goes on.
And it's all FOR FREE. C'mon, what's not to love?
So, Teigen got involved on the library lovefest explaining that she didn't know how amazing libraries are until recently either. It's okay to not know! But once you do, your life will never be the same, as Teigen now understands.
It appears that librarians are used to people losing their freaking minds over what a damn wonderland the library truly is.
Not only was Twitter awash in folks totally enthralled by the library, it also brought out tons of people to defend these havens of not just books, but a number of other useful things.
Of course, Highlights was only too glad for the shoutout.
https://twitter.com/jetpack/status/1159167972012974080
Basically, Teigen is ready to bring everything and everyone to the library — even those who just ditched their gym memberships because of Trump. Long story.
My own local library has kept me sane as a WAH/SAH mom and my child absolutely adores being there and knows the staff by name. I can sit down and scroll through emails or read a few pages of a book, and she can play or do her own thing while I can still keep watch. Also? The library is a wintertime SAVIOR. It keeps kids busy and isn't as much of a breeding ground for the flu or RSV as an indoor gym or, say, Chuck E. Cheese.
Even though e-books are more affordable than hardcovers (though there's nothing quite like the smell and feel of a solid book in your hands), they can still set you back anywhere from $6.99-$14.99 depending on what book it is. If you're an avid reader, that adds up. While waitlists for physical books can sometimes be a pain, they're practically nonexistent in the world of your library's e-book catalog.
More than that, I love touting the local libraries in my neighborhood and surrounding ones. There's nothing better than having someone raise their eyebrows in response and ask, "Really? You can do that at the library?"
From registering to vote, to participating in a knitting club or book of the month meetings at a fun, local bar — you can find your people and yourself there.
Oh, and also, Chrissy Teigen.
This article was originally published on