Viral Tweet About Telling Men 'No' Strikes A Chord With Women Everywhere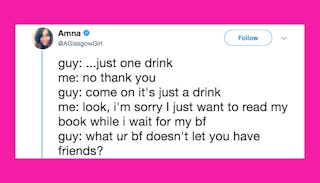 Image via Twitter/Amna Saleem
This Twitter tale of a man who can't take no for an answer really resonates with women
Amna Saleem just wanted to read her book. She happened to be in her "favourite London writing spot," a hotel lounge, which sounds like a perfectly comfortable and appropriate place to read, if you ask me. I've certainly tucked into a booth at my favorite cozy cocktail bar with a book. Is there anything nicer than having a drink and reading on a chilly day? I think not.
But Saleem was about to find out just how wrong she was for assuming a woman has the right to read a book in public without being harassed. A man approached her and demanded to buy her a drink, refusing to acknowledge that she repeatedly told him no, until another woman in the bar came to the rescue. Saleem captured the exchange in a tweet, which is resonating with women all over the world.
While the tweet itself is great, the responses might be even better. Woman after woman shared stories of having interfered like this, or had another woman interfere for her. It just showed what a truly pervasive problem this is for women who have the audacity to try to do things alone in public — and how incredible women can be to one another.
Even men were wondering how they can get in on the "girl code" and provide this kind of rescue without coming across as creepy or aggressive.
After her tweet took off, Saleem wrote an article for Huck magazine, diving further into the idea that women somehow aren't allowed to read a book in peace in a public space.
"Women are conditioned by society from a young age to be polite and accommodating, especially to men. And so, more often than not, when faced with a man demanding our unsolicited attention, we will look for the least aggressive way to let them down as not to make a scene," Saleem wrote. "I was captivated by my copy of Station Eleven, so the interruption was not at all welcome. As the man tried to take the book out of my hands to get my direct attention after I pretended to not hear him, I snapped it shut and reluctantly placed it to the side."
Can we just stop right here and talk about how horrifying this scene already is? She ignored him, and then he felt entitled to physically take her book out of her hands to get her attention. It's a sickening tale, but familiar to most of us.
"This is not an uncommon interaction for many women, where a man feels so entitled to your time that he forces you to stop what you're doing. I expected him to ask me about the book but instead he insisted on buying me a drink, swivelling his head around in an effort to catch the eye of a passing waiter," she continued. "I politely declined several times but he remained steadfast in his mission to waste my time. Immensely irritated, I insisted that he leave me to finish my book, explaining that I was waiting for my boyfriend – at which point he mockingly asked if my boyfriend 'didn't let me have friends'. As if friendship was what this guy was looking for because sure, all the best friendships are born out of a random man being petulant and rude to a woman he interrupted in a hotel lounge."
Saleem is so right that this isn't uncommon for women. Yet, we still live in a culture where women are expected to be accommodating, to let him down easy, to choose somewhere else to read as if this kind of interaction is our fault and not the fault of the people who choose to harass us. Can we all just agree to leave this kind of bullshit, victim-blaming thinking in the past? Clearly not, because Saleem's tweets got responses like these:
https://twitter.com/jetpack/status/955385523752796160
Yes, why should a woman feel like she can exist alone in a public place without being bothered? Why should she think she's entitled to read a book in a bar instead of exclusively at the library? If there are all these rules about what women are allowed to do when and where, someone please write them down, because clearly we can't keep track. Oh, wait, it's because those rules don't exist, and women are as free to go about their business in society as any other person.
Or, as Saleem puts it, "even for those who can't see that, the crux of the matter is no means no, and we can read books wherever the fuck we like."
Amen, sister. A-fucking-men.
This article was originally published on