The Internet Is Loving These Photos Of Dogs Twinning With Their Owners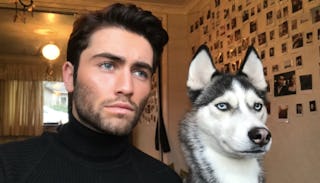 Image via Liam Rice
It seems that all dogs and owners eventually start to look alike
There's an old saying about dogs who look like their owners or owners who somehow start to look like their dogs. I'm not sure exactly what that saying is, but I do know that a picture is worth a thousand words — and there are some incredible ones on Twitter right now proving that old adage to be absolutely true.
Liam Rice shared a series of photos of himself on Twitter with his gorgeous husky and it became quickly apparent that the two have a little more than just a sweet owner/pet relationship — they could almost be twins, TBH.
Look at these two. They're definitely on the same wavelength with both facial expressions and eye color. It's way too adorable.
Rice's tweet went insanely viral, because hello, but the best part? All the dog owners in the replies twinning with their puppers, only too happy to prove that this is totally a thing that happens.
Like, is she kidding with this sweetness?
https://twitter.com/jetpack/status/961744208645251072
These two are so in sync with their fierce and goofy mugs.
https://twitter.com/jetpack/status/962043704948146177
OMG. That cone-of-shame solidarity. Love it.
Fashion world, please take note – this needs to be on the cover of some very fancy magazine.
These photos are off-the-charts cute — and the similarities uncanny.
Look at these dapper dudes.
https://twitter.com/jetpack/status/962047357054414854
Love how their facial hair patterns are basically a mirror image of each other.
NO ONE PANIC, ok, except I might panic at how my heart is close to exploding from all this doggie/owner love.
Just when I'm ready to die from all the sweetness, a legit LOL. Those faces. I cannot.
https://twitter.com/jetpack/status/962062339871657992
These two with their twin side-eye expressions are just slaying the internet right now.
Same here, too. So much same.
Can we please make this a daily thing? Dogs and their people making the same faces and being generally squeal-worthy? The world sucks and I think we need this. Internet, get on it.
This article was originally published on