Viral Video Proves If You Look Like Santa, You Better Be Prepared To Act Like Him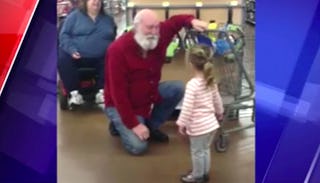 This Santa look-a-like made a little girl's Walmart trip the highlight of her Christmas season.
We need a little Christmas right this very minute, or at least that's what it seems like with the amount of viral Santa stories in the news. There's been a number of them in the past few weeks, but this one is especially adorable. A little girl thought a man shopping at Walmart was Santa Claus and the jolly stranger totally played along.
It happened at a Walmart in Hurricane, West Virginia. A man with a snowy white beard was pushing his cart through the aisles when a little girl walked up and asked if he is Santa Claus. Without missing a beat the man responded, "Santa? Well, I've been called a lot worse. Have you been a good girl this year?" Her mom caught the entire interaction on video:
The video is a little difficult to hear, but it starts out with the man asking the child all the usual questions about her tree and if she's ready for Christmas. The conversation takes a sweet turn when her mom prompts her to tell him they're leaving out cookies for him this Christmas eve. The girl takes a tough stance and scolds him, saying, "You only get one!" Santa asks if he can share the cookies with his reindeer, and she sharply reminds him that reindeer only eat grass. He tells her grass is "hard to come by in the North Pole," and they wrap things up with Santa saying he needs to go finish his shopping and get back to work making toys.
I guess these days if you look like Santa, you'd better be prepared to act like him. It's sweet, though, how much he played into her innocent speculation and the adorable conversation that followed. By putting in just that little bit of extra effort he made her Christmas that much more magical, and that's a really kind thing to do for a kid.
If there's one thing we can take away from these viral Santa stories, it's how much the world is craving a little bit of goodness right now. Every nice gesture and small act of kindness is seemingly going viral, and you can't help but feel like we're all trying to latch onto a little Christmas cheer in a world that feels so dark.
It's comforting to know that when we're looking for miracles, we can find them in the form of these ordinary people who show extraordinary amounts of care for others. Santa may not be a real person, but the many people spreading joy and love in his name are proof that, in a way, he does exist.