'Virgin River' Is Coming Back On Netflix, And It Already Feels Like Home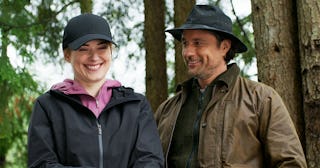 NETFLIX
Last fall, Netflix captivated the hearts of many when they brought the quaint, rustic town of Virgin River to life. And ever since then, we've been (not so) patiently waiting for more episodes. Well, it's almost time to grab the sherpa blanket and cozy up on the couch, because Virgin River is making a comeback with an all new season on November 27th — the day after Thanksgiving. (And if that's not a sign that we should all put the kids to bed early, eat some leftover casserole, while enjoying a socially-distanced Black Friday at home, I don't know what is.)
The first season closely follows Melinda "Mel" Monroe (played by Alexandra Breckinridge), a hot-shot, L.A. nurse practitioner and midwife who accepts a job with Virgin River's tough-loving general practitioner "Doc" Mullins (Tim Matheson, Hart of Dixie's beloved Dr. Brick Breeland) following the sudden death of her husband. As Mel adjusts to a place where the only local eating establishment is decorated with the heads and horns of last year's dinner specials, tensions immediately rise between her and the sweet and sensitive bar-owner, Jack (Martin Henderson, as seen on Grey's Anatomy). Half-expecting to leave town as soon as a replacement can be found, we walk alongside Mel as she finds a new, unlikely place she can call home instead.
Besides the small-town ambiance displayed so well that it's almost tangible, folks fell in love with this series for the way it realistically tackles the uncomfortable topics — things like grief, PTSD, domestic violence, romantic entanglements, and (rumored to come in the second season) even murder. It seems that when it comes to this series, no topic is too heavy or taboo to be off-limits.
Based off of the New York Times bestselling author Robyn Carr's 20+ book series (which are just as good as — if not better than — the Netflix series), Virgin River's second season will bring back all the familiar faces we grew to know and love throughout the first season, while introducing us to new characters like Mel's sister-in-law Staci (Melinda Dahl) and Jack's "brother" from his time in the Marines, Mike Valenzuela (Marco Grazzini).
A trailer hasn't been released yet, but Netflix did give us snippets of what's to come next season in their "New to Netflix" video released on Wednesday. (For Virgin River content, skip to the 3:33 mark). Alongside the release date, we were given this tease: "Engagement. Babies. Heartbreak. Murder. For a small town, Virgin River has its fair share of drama — and Mel Monroe is often in the middle of it."
In an interview between Virgin River's author Robyn Carr and Entertainment Weekly, Carr says that her fans don't write to her swooning over these characters — they write to her because they can resonate with the authenticity of the characters and their unique stories.
"They write to me and say, 'My husband died last year and your books got me through a bad time,'" Carr says in the interview. "Or they say, 'My baby died and I know exactly how she felt.' They have real issues, real emotions, real drama, and they really have to deal with it in a safe place. And a book is a real safe place."
I think we can say the same thing about this Netflix series, too.