Virtual Online Disney Rides Will Help You Get Through Quarantine
by Christina Marfice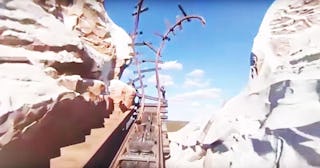 Virtual Disney World/Youtube
You can now ride your favorite Disney ride from the comfort of your own home during your coronavirus quarantine
The coronavirus pandemic has now forced more than 20 percent of all Americans to isolate as part of "shelter at home" mandates from their state and local governments. It's for the best — social distancing is the most effective tool we have to slow the spread of the deadly COVID-19 virus — but it's understandable that people who now have to live, work, and socialize at home alongside everyone in their household at all times are getting a tad antsy. So how about a little virtual vacation to ease the stress and boredom? How about taking a trip to the Happiest Place On Earth™ without having to leave your home? Virtual Disney rides are about to change the quarantine game.
RELATED: 80 Disney Trivia Questions For Your Long Drive To Orlando
There are entire channels on YouTube dedicated to 360-degree videos taken by riders on Disney parks attractions. That means anyone with a device and an internet connection can relive the magic. And it's even better if you have a virtual reality headset or smartphone mount. Then, the videos become fully immersive experiences, basically like being back at Disneyland before the world almost totally shut down.
You can ride the popular new Slinky Dog rollercoaster. You can get a front-row seat to the hot-button Frozen stage show. You can even ride Splash Mountain without getting wet, something we Disney parks fans have dreamed of all our lives.
Seriously, just about every Disney ride or attraction you can think of is available for you to virtually ride from a comfortable spot on the couch.
During the pandemic, Disney parks have been among the myriad businesses that have had to shut down to help prevent crowds and protect people from coronavirus's deadly spread.
That means a real Disney trip is out of the question, and tons of people who had planned vacations during these months have had to cancel or postpone them. We only hope these virtual ride videos are helping to ease the pain, even though they're no substitute for a real family vacation.
And for the rest of us? Well, virtual ride videos are not new—they've been available on YouTube for years. But while we're all sheltering at home and practicing responsible social distancing, they're something we can do to bring a few small sparks of joy into what's otherwise a scary and uncertain time.
This article was originally published on