These Dolls With Vitiligo Show Kids That Every Kind Of Skin Is Beautiful
by Christina Marfice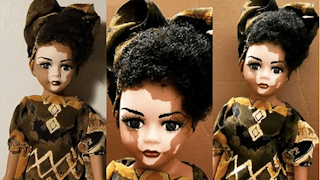 Image via Instagram/Crystal Kay
Crystal Kay's custom dolls don't look like the ones you see on store shelves
When kids walk down the doll aisle at a toy store, they need to see themselves represented. It's why companies like American Girl are celebrated for including dolls of different races and genders — it's simply affirming for kids to see themselves in their toys. The alternative is seeing shelves of dolls that don't look like them, and can you imagine how ostracizing that must feel?
Custom doll designer Crystal Kay is making sure fewer and fewer children have to feel that way. Kay has been lauded in the past for creating dolls with features like natural hair and albinism, things that are hard to find in a lot of mass-produced dolls.
But what Kay is gaining a following for now is her hand-painted dolls with vitiligo, a rare skin condition that effects pigmentation. Doctors don't know for sure what causes vitiligo, but some think it might be an autoimmune disorder. It has no symptoms other than uneven skin pigmentation.
"My goal is to go beyond the average assembly line-looking doll, to make relatable and realistic works," Kay told Today. "I want to convey the message that beauty should not be manufactured, it should be based on one's true mirror image."
https://www.instagram.com/p/BZKjltFBsZs/?taken-by=kaycustoms
To create her dolls, Kay scours secondhand shops and yard sales for dolls to use "as a canvas," then carefully paints them, gives them new hair and dresses them in custom clothes. The result is a line of dolls as beautifully diverse as kids are. And as far as what motivates her? Kay tells People, "People are literally in tears when they get their dolls. I want to create dolls everyone can relate to."
https://www.instagram.com/p/BZhRby-jYFQ/?taken-by=kaycustoms
Kay sells her dolls on her website, where she also takes requests for custom dolls. Here's to a future full of these kinds of inclusive toys.
This article was originally published on