This Registry Provides Gender-Affirming Gifts For Trans & Queer Folks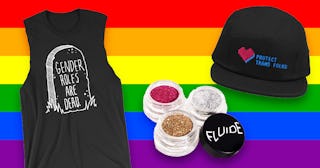 Scary Mommy, fluide and flavnt
Vizzy Hard Seltzer is teaming up with trans- and queer-owned businesses on a new online registry to provide gender-affirming gifts, including gender-inclusive clothing, makeup, and more
Marginalized individuals, including those in the LGBTQIA+ community, face challenges big and small throughout their lives — one such challenge being access to gender-affirming personal items, such as clothing and cosmetics.
Beginning this Pride Month and running through the rest of 2021, Vizzy Hard Seltzer is teaming up with four trans- and queer-owned businesses to create a gift registry for allies and friends to shop for their LGBTQIA+ loved ones, bringing some much-deserved joy (and necessities) to those who are largely left out of or ignored by mainstream fashion and beauty brands. After all, if there are wedding registries, baby registries, and kids' birthday registries, why not a registry that uplifts and supports trans and queer folks?
"Let's honor the trans community with the Vizzy Live Proudly Registry — an online gift registry where allies and friends can buy a meaningful gift for trans and non-binary friends directly from trans- and queer-owned businesses," their site reads.
The Vizzy Live Proudly Registry spotlights gifts that are meaningful to those in the LGBTQIA+ community, curated by and in direct support of trans- and queer-owned businesses. Users can build their own registry and pick from the list of selected items, including chest binders for trans people by trans people from gc2b, Pride streetwear from FLAVNT, cosmetics for all gender expressions from We Are Fluide, and gender-neutral clothing from A Tribe Called Queer.
To further their support of the trans, queer, and non-binary communities, Vizzy will also randomly select 50 participants and award them $500 toward the purchase of items from their registry, along with making a $25,000 donation to the National Center for Transgender Equality, an organization that advocates to change policies and society to increase understanding and acceptance of transgender people. The beverage brand also donated $1 million to the Human Rights Campaign last year, which supports the organization's work to end discrimination against all LGBTQIA+ people.
Participants can create and access their registries through the end of the year, which means their loved ones can choose from joyful and fun clothing, makeup, chest binders, accessories, and gift cards and shower them with love throughout 2021. We all deserve access to products that help us feel confident and comfortable in our skin, so here's hoping other brands follow suit and shine a spotlight on brands and companies providing those necessities to those who need and deserve them most.