Salon Denies Service To Woman With Disability, Kind Walmart Cashier Steps In
by Christina Marfice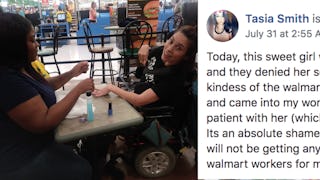 Image via Tasia Smith / Facebook
This Walmart cashier stepped in when a nail salon let their customer down
Angela Peters shops at Walmart in Burton, Michigan, all the time. So when she was grocery shopping and decided she wanted a manicure, she figured she'd just pop into the independently owned salon inside the Walmart. But Peters has cerebral palsy, and the nail salon refused to help her.
"When I went in there they denied me because they said I moved too much," Peters told local news station WNEM. Cerebral palsy is a neurological disorder that can cause sudden, uncontrolled movement or floppy or rigid limbs, according to the Mayo Clinic.
That might have been the sad end to this story. But Ebony Harris, a cashier at that Walmart, saw that Peters was upset and offered to help.
"I found out what happened and I just asked her, 'do you want me to do your nails?' And she just started smiling and said yeah," Harris said.
On her break, Harris bought a few bottles of nail polish, and she and Peters sat at the subway restaurant inside the store. There, Harris painted Peters' nails. Stasia Smith, an employee at the Subway, a few photos of the touching moment to share to Facebook, where they went viral.
In the photos, Harris is clearly concentrating on carefully painting without making any mistakes. Peters, on the other hand, has a huge smile. She looks thrilled. This simple act of kindness clearly made her day.
Both women say they don't want negative attention toward the nail salon. In a post to Facebook, Peters said she forgives the employees there, and hopes people who see her story take a moment to think about the challenges people with disabilities can face.
And Harris clearly has a heart of gold. She and Peters knew each other before this, because Harris reportedly chats with Peters at the store and has helped her with her shopping on several occasions. She was rewarded for her role in this story, even though she tried to fight it.
During a radio show appearance, the hosts offered to do "something beautiful" for Harris in return for her generosity.
"I don't … that's fine," she said. "The reason why I did it was because God told me to do it. I'm a spiritual person. I'm not perfect. I have my flaws. I have my own issues. But my heart goes out to people who are in need."
Not deterred by her humble nature, the hosts gave Harris a pair of tickets to see Beyoncé and Jay Z perform.
But the even better ending here might be the fact that all three women, Peters, Harris and Smith, who snapped the viral photos, have remained friends. They plan to have get-togethers (at Walmart, of course).
"I'm making new friends at Walmart as well and they get to see my abilities too," Peters said. "So it's awesome."
This article was originally published on