Walmart Announced It Will Stop Selling E-Cigarettes In All U.S. Locations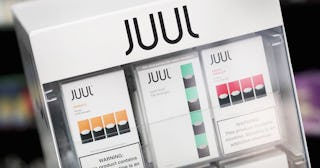 Scott Olson/Getty
All electronic nicotine delivery products will be discontinued at Walmart stores
Less than two weeks after Walmart announced it will stop selling certain types of military-grade weapons and ammo in all of their stores, they've come out with another bombshell announcement: no more e-cigarettes will be sold in any of their locations.
"Given the growing federal, state and local regulatory complexity and uncertainty regarding e-cigarettes, we plan to discontinue the sale of electronic nicotine delivery products at all Walmart and Sam's Club U.S. locations," a Walmart spokesperson said Friday. "We will complete our exit after selling through current inventory."
This comes on the heels of the announcement made by New York governor Andrew Cuomo that the state would issue a ban on the sale of flavored e-cigarette products, largely marketed towards kids which can lead to nicotine addiction. Additionally, CBS, Viacom, and CNN parent company WarnerMedia also announced they would be prohibiting e-cigarette advertisements on their networks.
Stories have been surfacing in the past month about vaping-related hospitalizations and deaths as a result of vaping. So far this year, eight people have died as a result of lung disease which resulted from vaping, Forbes reported.
According to the CDC, of the 500 cases of vaping-related illnesses this year, 75 percent of the patients are male, and half are younger than 25, with 16 percent aged 18 or younger. It also noted teenage vaping has doubled since 2017, according to early results of a survey released Wednesday.
The Vapor Technology Association, a trade group representing e-cigarette companies, vocalized their frustration with Walmart's decision. "The fact that Walmart is reducing access for adult smokers to regulated vapor products while continuing to sell combustible cigarettes is irresponsible. This will drive former adult smokers to purchase more cigarettes," said Tony Abboud, the group's executive director.
Many teens don't comprehend the chemicals they are putting into their bodies by vaping, believing it's "cool" to blow smoke rings and puff on something that tastes like candy. According to The Center on Addiction, "Vaping is the act of inhaling and exhaling the aerosol, often referred to as vapor, which is produced by an e-cigarette or similar device," adding that the chemicals in e-cigarettes and vapes are incredibly dangerous. "The e-liquid in vaporizer products usually contains a propylene glycol or vegetable glycerin-based liquid with nicotine, flavoring, and other chemicals and metals."
This isn't the first time Walmart has taken a stand against tobacco products. Earlier this year, it raised the minimum age to buy tobacco to 21 which went into effect on July 1st of this year for all of their stores and Sam's Clubs across the U.S. They also said at the time that it would stop selling e-cigarettes targeted towards teens, a market that some researchers believe will be a $34 billion industry globally by 2021.
Kudos to the retail giant for stepping up and using their influence and buying power for the greater good.