Guests Can Now Ride Around Disney World In 'Minnie Vans'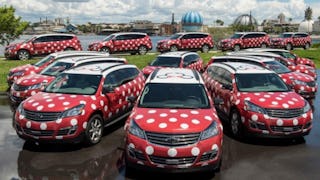 mouse.updates / Instagram
In a partnership with Lyft, Disney is giving park visitors a very on-theme way to get around
One of the best things about a Disney vacation is how perfectly themed everything is.
From food to clothing to souvenirs to decor, almost everything ties into a Disney movie or character. Suspension of disbelief doesn't exist on Disney properties, and it really adds to the magic.
Now, with a new partnership with Lyft, Walt Disney World is offering a way for park guests to get around that's just as perfectly on-theme as the rest of its amenities. Those who are staying at Walt Disney World Resorts like BoardWalk, Yacht and Beach Club can use their Lyft apps to request a ride to the park, and then hop into one of Disney's adorable new "Minnie Vans."
https://www.instagram.com/p/BXOjWu8hpO-/?tagged=minnievan
Guests can use Minnie Vans to get rides anywhere on the resort property, including to and from the gates of the park. The cars are easily recognizable because of their Minnie Mouse look — they're red with white polka dots and feature Minnie Mouse outlines painted on their doors and roofs.
What makes this announcement even better is that every Minnie Van will be driven by a Disney cast member in a Minnie-themed costume. The magic truly never stops.
27 Minnie Vans have already been rolled out to start transporting Disney guests, and two of them are wheelchair accessible. Up to six passengers can ride in each van, and for families traveling with their smallest Disney fans, each van comes with two car seats ready to install if needed. They run from 6:30 a.m. to 12:30 a.m. daily, and trips cost $20 each. No word on whether it's an option to just take one for a joy ride, because how fun would that be.
Minnie Vans have only been in operation since Monday, but Instagram is already full of photos from satisfied riders posing with their cars and drivers. Currently, Minnie Vans are only available at Walt Disney World parks and resorts in Orlando, and there's been no announcement yet on whether the service will expand to other Disney parks.
Booking tickets to Orlando, BRB.
This article was originally published on