The War Of The Christmas Music
by Kathy Radigan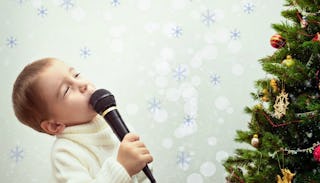 Pavel Kriuchkov / Shutterstock
Each November, my family and I enter into the War of the Christmas Music.
Yes, it's me against my husband and the three little darlings whom I brought into this world—I should add after a collective 36 hours of labor and three C-sections.
This year, I'm taking a proactive stand. I'm taking my case to the people. Mommy wants to listen to "Have a Holly Jolly Christmas" without the groans and moans from the backseat of the minivan. I would like to enjoy all 55 versions from 55 different artists of "It's the Most Wonderful Time of the Year," without hearing my husband call me a "lame-o."
Here are 10 reasons why my family shouldn't give me a hard time when I listen to the holiday music that gives little old me such joy:
1. I don't play the "I carried each of you for 9 (actually 10) extremely long months" card very often, but this year I will. Remember that without me, three of you would not be here on this earth and one of you would not be a father. I think that deserves a few fa-la-la-la-la-la-la-la-las for a few weeks.
2. Contrary to what some 16-year-olds claim, listening to large amounts of holiday music will not cause permanent damage to anyone's psyche or cause anyone to turn to a life of crime.
3. Hearing "The Christmas Song (Chestnuts Roasting on an Open Fire)" puts me in a much more peaceful mood and makes my head less likely to explode when a certain 8-year-old asks me 55 times if we could have mushrooms, then asks another 55 times if the mushrooms are ready, then looks at them and with a straight face tells me he doesn't like mushrooms.
4. If I could listen to Elmo singing the alphabet, Steve from Blues Clues sing, "We Just Got a Letter!" and Dora the Explorer singing "The BackPack Song" for the rough equivalent of two full years of my life, surely you can listen to Karen Carpenter sing, "Merry Christmas, Darling," for a few weeks without bursting into tears.
5. John Lennon, Paul McCartney and Bruce Springsteen have done Christmas songs. If it's good enough for them, surely it's good enough for us.
6. There comes a time every Christmas when Santa needs some extra elves to help with all the seasonal preparations. Who do you think he is going to ask for help? Yes, you are right—me! Happy elves spread holiday cheer, and nothing brings more cheer than a few choruses of "The Twelve Days of Christmas."
7. What holiday season is complete without hearing "Grandma Got Run Over by a Reindeer" at least a few times?
8. There really was a part in our wedding vows that said, in sickness, health and listening to holiday music every year. I'm not sure why you don't remember that? Weren't you paying attention on the most important day of your life? Don't you love me enough to remember the vow you made to me 22 years ago in front of our family, friends and God? Doesn't our marriage mean anything to you?
9. When Mom is happy, everyone is happy. When Mom is not happy, well, you know what happens.
10. Some of my most precious holiday memories are of nursing a 2-week-old, trying to decorate the Christmas tree while nine months pregnant and holding the hand of a 3-year-old, watching three of the sweetest children squeal with delight over what Santa brought them, and snuggling on the couch with the one I love, all with the sounds of the season playing in the background.
Truth be told, there is something that just warms my heart every time I hear a Christmas song. They trigger all the best memories of holidays past. And, if that doesn't move you, remember your survival sort of depends on, well, me.
This article was originally published on