Here's Why I Loved 'Firefly Lane' On Netflix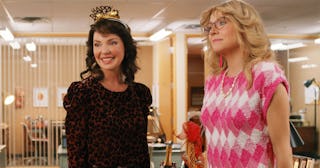 FIREFLY LANE (L to R) KATHERINE HEIGL as TULLY and SARAH CHALKE as KATE in episode 109 of FIREFLY LANE. Cr. COURTESY OF NETFLIX © 2020
"Firefly Lane," written by Kristin Hannah and published in 2008, was one of those books. You know what I mean, right? One of those books that speaks to you by tapping into your own memories and making you feel like you know the characters.
I devoured it in a matter of nights while my kids were sleeping and my then-husband was downstairs watching television. I didn't even care that I was crawling into bed at 7:30 on a warm summer evening. All I could think about was that damn book, and before I knew it, my mother and sisters were reading it too.
Now I've always been on team "the book is always better," but watching the screen adaptation of "Firefly Lane," which recently dropped on Netflix, has made me change my mind. However, even if you've never read the book, you need to watch "Firefly Lane."
As a divorced woman, I knew within minutes of the first episode I was going to be a fan of Sarah Chalke's portrayal of Kate. She was going through a divorce herself — not just any divorce, but a friendly divorce, like my ex and I did. She's getting back into the workforce after staying home with her child, which paralleled my own story, and has a teenage daughter my daughter's age. So, I already made my mind up that she would be my favorite character, and I wasn't wrong.
Without giving any spoilers, the show is about female friendship through three decades which starts in the '70s. Kate's best friend, Tully, played by Katherine Heigl, is one of those people that if I knew her in real life, I wouldn't like her. Well, not until I got under some of those complicated layers and walls. Then I'm pretty sure I would love her. She needs (and loves) lots of attention and is one of those people who spew confidence at every turn.
The ten episodes, which are each nearly an hour long, take you back and forth from present day to their teenage years which are set in the '70s, to the '80s when they were both getting their careers off the ground.
Let me tell you right now, the hairstyles — all of them, but especially Kate's '80s feather 'do — are on point. And the fashion? I can't even talk about it. It made me think about so many things from my childhood I'd forgotten about. Like those epic Jane Fonda workout videos. And the music was perfectly selected. Around episode five, I realized I'd never cried so hard watching a show. Just wait until you hear Carly Simon's voice in one of the episodes.
Almost every episode starts with a fantastic sex scene and ends with a cliffhanger that will make you forget you have a life to live and other things you should be doing. Trust me, it can all wait for this show. It will be worth it.
The was written so beautifully, and shows the unbreakable bond between two women. You aren't friends with someone for over thirty years without going through some serious shit.
Tully and Kate have an amazing friendship with their own strengths, flaws, and weaknesses. It shows how nobody has it all — especially the people that we think aren't lacking in anything. And that the things we may wish for the most in life may mean nothing to the people who already have it.
My biggest takeaway from the show was how certain moments, even really small ones, shape us and can morph the way we think and literally change who we are.
It's about women supporting women. It's about true love. It's about seeing two lives from two different perspectives. It made me revisit a few of my past journeys, and I know it will do that for everyone who watches it.
If you are looking for some drama, great sex scenes, a dose of nostalgia, and a show about two women who are grasping for something they can't quite get their hands on (which is so raw and relatable), you won't just love this show — you won't be able to peel yourself away until you've watched it all.
So, get comfortable on your couch, let all your other obligations wait, and prepare to have all the emotions stir up inside of you. Don't forget the tissues.
This article was originally published on