Here's How To Support The 'Day Without A Woman' Strike If You Can't Take The Day Off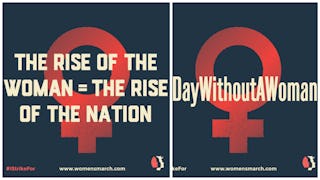 Images via womansmarch.com
Here are some ways to show your support for the March 8th Day Without A Woman Strike
The organizers behind the Women's March on Washington have another event planned this month, timed to coincide with International Women's Day. On March 8th they are encouraging women to participate in a "Day Without A Woman," a day in which women go on strike from work in order to prove how much we bring to the American workforce.
The event's statement of purpose reads: "In the same spirit of love and liberation that inspired the Women's March, we join together in making March 8th A Day Without a Woman, recognizing the enormous value that women of all backgrounds add to our socio-economic system–while receiving lower wages and experiencing greater inequities, vulnerability to discrimination, sexual harassment, and job insecurity. We recognize that trans and gender nonconforming people face heightened levels of discrimination, social oppression and political targeting. We believe in gender justice."
While the strike has great intentions, it's important to recognize that having the ability to take a day off from work is a privilege. Not everyone has the luxury of paid time off or can afford to take a day unpaid without losing their job or falling behind on their bills. And for women who work as the primary caregiver for young children, you can't exactly tell your infant to feed and change themselves for a day.
For those of us who won't be striking on March 8th but still want to show our support for the cause, the organizers have come up with a few alternative ways to spend the day, and we've added a couple ides of our own.
Avoid shopping for the day
Women influence 70-80% of all items purchased in United States. We can make a powerful statement by planning to do our Target runs or grocery shopping on March 7th or March 9th instead. Or, if there's something we really need to buy on the 8th, we can make our purchases from small, women and minority-owned businesses instead of the big box stores.
Wear red
Organizers of the Day Without A Women are encouraging participants to wear red. "We have chosen red as a color of signifying revolutionary love and sacrifice. Red is the color of energy and action associated with our will to survive. It signifies a pioneering spirit and leadership qualities, promoting ambition and determination. It also has a history of being associated with the labor movement."
Even if you're planning on going into the office or will be spending the day at home with your kids, you can still show your support for women everywhere by wearing red.
Make a donation
If you have the means, consider making a donation to an organization that helps empower women, like Planned Parenthood, the National Organization for Woman or the National Domestic Violence Hotline.
Not all donations have to be made in cash. You can also donate new or nearly-new suits, other business-appropriate apparel, shoes or even accessories like handbags and unused cosmetics or jewelry to an organization like Dress for Success that helps women find clothing for job interviews.
Show your support on social media
Day Without A Woman graphics can be shared on social media. Or share a link to a news story about the strike or post a status update that expresses your support. Part of being a good ally is being vocal about the causes you support.
Call your representatives
Encourage them to push for women's rights by picking up the phone and telling them how you feel. You can find your local rep by zip code on the House of Representatives website. Or try an app like 5 Calls which give you phone numbers and sample scripts to help you call five of your representatives in five minutes a day.
Hands in everyone. Let's do this.
This article was originally published on