Cookie Monster Now Gives Driving Directions For Waze Navigation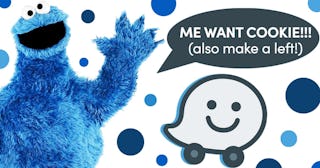 Scary Mommy, Sesame Street and Waze
Waze is letting users select Cookie Monster's voice to get us from A to B
"C is for cookie, that's good enough for me," and now, thanks to the navigation app Waze, C is also for car. The company announced in honor of everyone's favorite Sesame Street character's birthday, Cookie Monster will be riding shotgun to help with all of your driving needs.
Cookie Monster's birthday was on November 2, and to help celebrate, Waze announced that users can choose the furry blue monster to be our guide while driving. Waze provides turn-by-turn navigation information and user-submitted travel times, police sightings, construction zones, and many other tips and route details to users looking for the most stress-free way to their destination.
Waze announced the exciting news in a short video on Twitter with an animated Cookie Monster face on wheels driving along only to find a cookie cake (what else?) with a candle waiting for him for his big day.
For those of us who use Waze to get around town, you know this isn't the first time our furry friend's voice has been available to help get people from here to there. The muppet with a proclivity for All Of The Cookies made his debut on the app this summer. His voice is available in the voice and sound settings within the app now and if you haven't been given directions by a muppet before, I'd highly recommend it.
If you were saddened by his sudden absence on your morning commute, you know the voice option won't be available forever, but he was a fan favorite for sure. Waze uses other popular celebrity voices and they've obviously invested heavily in Sesame Street, because they've featured voice options from the likes of Elmo and Oscar the Grouch in the past. They are never on for too long so you need to go all-in when they're available because who doesn't want to hear Cookie Monster himself get us to where we need to go.
It's impossible to not have a good day after listening to his sweet "om nom noms" and "me want cookies," plus you get the benefit of laughing hysterically in your cars while other grumpy drivers pass you by wondering what in the hell you could be so damn happy about first thing in the morning.
If you have kids who really despise being strapped into their car seat for a long journey, Cookie Monster's voice could go a long way in entertaining them while you're stuck in traffic. It's basically a win-win for drivers, parents, and commuters alike. Way to go, Waze. You win the creativity award for sure.
This article was originally published on