Female Artists Make A Mural Out Of The Most Horrifying Things Male Politicians Have Said About Women
by Christina Marfice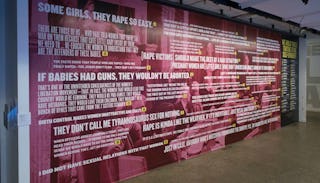 Via New York Live Arts
"We Hold These Truths To Be Self Evident" turns politicians' most horrifying thoughts on women into art
During every election cycle, every state legislature, it's become inevitable that a politician, almost always a man, will say something so shockingly ignorant or offensive about women and their bodies that women everywhere can only sigh and shake their heads and wonder why these men are being rewarded for the ignorance by being allowed to create legislation that affects our lives.
RELATED: Learn The Definition Of Process Art, Plus Ways To Encourage It At Home
It's that hopelessly familiar feeling that inspired artists Zoë Buckman and Natalie Frank to create their collaborative new mural, "We Hold These Truths To Be Self Evident." The piece, on display at New York Live Arts, is comprised of 37 quotes from male politicians about women's bodies and rights.
"Natalie and I have been talking for months about the mass of upsetting statements made about women and women's bodies during the election process," Buckman told Vice Creators. "This research-based mural project is about the cumulative effects of negativity, hate, and the abandonment of science that has completely bewildered us, on women and girls."
She continued, "There's a real lack of basic understanding of the female body and the reproductive system. We wanted to find a way to make a statement that's not just arresting but also hopefully quite exciting and aesthetic because beauty and art is our currency."
The 37 quotes on the mural are printed over a photo of white men sitting around a conference table — but Buckman and Frank added the subtle image of an odalisque on the room's mantle. The quotes used in the piece come from Bill Clinton, Mike Huckabee, Jeb Bush, and Ted Kennedy. There are four quotes from current president Donald Trump, as well as several from his cabinet and advisors. Each quote is numbered, and corresponds to a key that explains the context in which is was said, alongside the name and face of the politician who said it.
The quotes are difficult to to read. They're graphic, and many of them allude to rape being a part of life, or something women make up as an excuse. In the months leading up to the mural's installment, Buckman shared some of the quotes she and Frank planned to use on Instagram.
https://www.instagram.com/p/BOkYRkEDhga/?taken-by=zoebuckman&hl=en
https://www.instagram.com/p/BNopeqfD6AV/?taken-by=zoebuckman&hl=en
"I think this is about saying to women, we hear you," Buckman said. "We want to give you agency. If you been grabbed, if you been raped, if you been objectified in the workplace, or scored on a scale, we want you to know we hear you and we need to join together."
https://www.instagram.com/p/BNsP-RsDSFX/?taken-by=zoebuckman&hl=en
She added, "I want this project to start a conversation about responsibility. Particularly in the way we raise our children. I am incredibly concerned right now about the messages the next generation is going to grow up to receive … I really want the conversation to be about accountability and [for] people who aren't having these conversations to recognize the vastness of these statements and realize how language feeds into actions and ideology."
https://www.instagram.com/p/BQf6Vl5jnEV/?taken-by=zoebuckman&hl=en
"We Hold These Truths To Be Self Evident" will stay on display in the Ford Foundation Live Gallery at New York Live Arts through the spring season.
This article was originally published on