This Instagram Account Gets Real About What It's Like To Be A Modern-Day Woman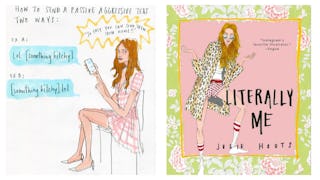 @joleeloren / Instagram
Instagram is one of our favorite vices (you can admit it too, we are in the Trust Tree here). Who hasn't spent hours scrolling and liking pictures of everything from cats licking frosting off a cupcake, to your neighbors' kids blowing bubbles, to stalking old flames (oh my god, don't you dare double tap), to new outfit inspirations?
Especially when you come across a gem of an account which makes you feel like the person behind the screen is totally inside your head. Like, maybe, their Instagram page was made especially for you. That was the case for me when I found Julie Houts account @jooleeloren.
Ladies, I can't get enough. This woman is awesome.
Vogue calls her "Instagram's Favorite Illustrator," and I call her real-as-all-fucking-get-out. Houts is a J.Crew designer who started dabbling in illustrations, and before she knew it, was blowing the top off Instagram.
"I started posting drawings casually for my friends. I didn't have much of a following at the time. It just grew in the space of a year," she told Scary Mommy.
Houts knows how to blend the perfect amount of sarcasm into our daily reality and whips up goodies reminding us not to take social media, men, or our diets too seriously.
Her sketches demonstrate what we are all thinking, but often don't show or say out loud even though we all want to.
They show what it really looks like when someone types they are LOLing their ass off at your recent meme or crazy life story. Seriously, we all do this. We say we are "dying laughing" or "LOL," but we are really just sitting there taking a crap.
And let's be real, we all feel this way in the morning. Mornings are assholes.
And this is my favorite of all. Why does every woman suddenly want to fucking be a made-up animal or a fish with boobs?
https://www.instagram.com/p/BTHZ9GeADiX/?taken-by=jooleeloren
And we all know when we have to keep talking about how we are "over it" because we are really not fucking over it. But maybe we are trying to convince ourselves we totally are.
Her book, Literally Me, is a collection of her illustrations, and it's the perfect gift for every single one of your girlfriends. Go and get your hands on it now. Houts doesn't hold back about what it's like being a woman in America today and all the bullshit that comes along with it. It's an art, she's mastered it, and we love her for it.
We want more so keep the truth coming @jooleeloren.
This article was originally published on