Weather Center Map Looks Like Giant Penis, Hilarity Ensues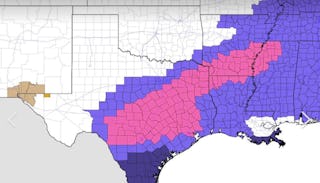 Image via Facebook/Gulf Coast Storm Center
It's impossible not to make jokes about a storm that looks like a penis
If you live in the US, chances are you've seen some interesting weather this winter. There's been record-breaking cold, flooding, shitloads of snow, and even bomb cyclones to contend with. But the winter weather advisory issued by a Gulf Coast storm center looks like the south will really be getting the shaft this week.
The Gulf Coast Storm Center issued a warning Facebook followers on Monday, stating, "A Winter Weather Advisory has now been posted for Southwest Louisiana, part of Southeast Louisiana, and the remainder of Southwest Mississippi (excluding coastal Mississippi counties)." Now all advisories should be taken seriously but man, it's hard when the storm looks like a giant penis.
LOL. Hard.
And since it seems I'm not the only immature adult who only sees a huge penis when they look at this picture, the comments are the stuff of comedy gold.
The storm, which was (literally) about to penetrate Tennessee, also warned parts of Arkansas, Mississippi, and Texas of freezing rain, snow, and ice, and the dick itself was where the actual winter storm warning was happening.
Luckily, it seems most of us are 12-year-old boys posing as grownups.
Then there's this guy who would like us to take our minds out of the gutter.
Nah, sorry dude, it looks like a giant peen.
If that weren't enough, they issued a second warning the next day which included another, albeit much less forceful version of the first storm, apparently hoping everyone got the dick jokes out of their system the day before.
They would be wrong.
Turns out those in affected areas should have heeded the storm center's phallic-shaped warning — there were road and bridge closures, dangerous travel conditions, ice, and snow across Louisiana, Mississippi, Alabama, and Texas. Continued snow and sleet also meant school closures for dozens of schools in those states, as well as into Georgia this week.
Later maps, unfortunately for everyone following, did not resemble any part of the male anatomy and so of course someone asked them, "Can y'all make one that looks more like a dick?"
In his defense, Caleb, who works for the advisory service and also seems to have a decent sense of humor, wanted to make sure everyone knew it wasn't him that created the giant dong and that no, they can't conjour up a massive storm willie whenever they want.
Who knew the weather could be so much fun?