This Bride Spent Only $3,000 On Her Wedding By Buying Everything On Amazon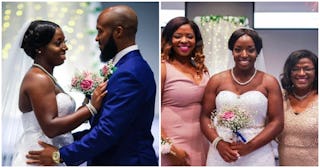 Instagram/Ashley Hicks/Tre Hicks/Jerel Hunter
A North Carolina woman used Amazon to furnish her $3K wedding
Ashley Hicks married her husband Tre Hicks on June 8, 2019 in North Carolina and spent a miraculous $3,000 on the entire wedding, thanks to everyone's favorite online retailer: Amazon. According to The Knot, the national average cost of a wedding in America in 2018 was $33,931, but here's how Mrs. Hicks threw am absolutely lovely wedding without going into debt.
"We had about 150 guests, and I probably spent about $3,000 total including our food, all the attire, decorations, everything, Hicks told ABC 7.
Hicks said she'd browse local stores to get an idea for what she liked and then on the recommendation of her wedding planner, went on Amazon to buy what she needed, which was almost everything.
"We bought my dress, shoes, bridesmaid dresses, their shoes, their jewelry, my husband's suspenders, all the groomsmen's gifts — except bowties, our table settings, and the plates, it was a long list," Hicks said of her all-encompassing Amazon purchase.
https://www.instagram.com/p/BznfOW5BlLc/
The thing that blew us away the most was that Hicks was able to find a gorgeous, custom-made wedding dress from a Chinese retailer on Amazon for only $100.
In a vlog, Hicks explained that she tried on dresses at brick and mortar bridal stores to get an idea of styles she liked and most importantly, to get her measurements. Then, having an idea of what kind of dress, materials, and silhouettes she liked best, she found an Amazon retailer that made her a custom dress based on her measurements. She did warn her YouTube followers that when you order a custom-made dress online, you likely won't be able to return it.
Luckily for Hicks, "[the dress] came, I put it on, and it fit perfectly."
https://www.instagram.com/p/BziIzzihUZq/
Hicks also tells Scary Mommy that she saved money by sourcing her friends and family to fill various wedding vendor roles and said she bought "high end grocery store items for our desserts" and ended up spending only $275 on "two cakes, cupcakes, donuts, and banana pudding shooters."
Sounds delicious to us.
https://www.instagram.com/p/Bzlmwl_h3a0/
Congratulations to Mr. and Mrs. Hicks on your new marriage, and thank you for these totally genius money-saving hacks.