Why You Might Want To Put Weed In Your Butt (Yes, Really)
by Amber Leventry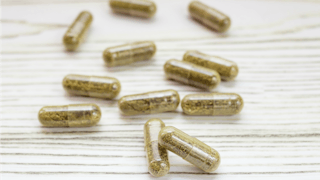 MysteryShot/Getty
A couple of years ago, a friend mentioned she took two CBD oil capsules at night before bed. They relieved her chronic arthritis pain and allowed her to sleep better, which she believed helped her body to really rest and recover to take on another day of being on her feet as an attorney and mom of two busy daughters.
RELATED: What to Know About Medical Cannabis And Getting A Medical Marijuana Card
She told me the oil comes from weed but doesn't make you high. I didn't think much about it again until I was in the early months of my sobriety. I was in so much physical and emotional pain that I didn't know what to do. An addiction group I am in suggested CBD oil; it had helped some with anxiety, insomnia, and pain.
There was a lot of debate on if, when, and why I should or should not try it. The benefits are appealing. The risks are low. And there are a lot of ways to use it—including…ummmm… sticking it in your butt. (Yep, you read that right.)
RELATED: What's the Difference Between CBD and Hemp Oil?
CBD stands for cannabidiol or cannabinoids, and it is one of the compounds found in the cannabis plant (aka, marijuana). Unlike THC (tetrahydrocannabinol), which is also found in marijuana, CBD is not addictive. Or for those who want to split hairs because some people either don't believe THC is addicting or think taking anything consistently for pain or relief is an addiction—CBD does not give the user a high. CBD is not mind altering the way THC is. This is why a bunch of addicts confidently suggested I try a substance not legal in all states.
There are varying traces of THC in CBD oil, however, which could show up on drug screens, so user beware.
Also, CBD oil can be derived from both the hemp plant and the cannabis stavia plant. The amount of THC found in CBD oil from hemp is about .3% and up to 30% from cannabis. More products than not are made from the hemp plant because CBD with a high concentration of THC is not legal in most countries. It is legal in some parts of the United States, however, as a medical option.
People are drawn to CBD because of the number of benefits it has. Medical News Today reports that CBD oil can reduce chronic pain and inflammation. Some people with anxiety, OCD, PTSD, and depression felt symptoms improve with CBD. And both nicotine and opioid users have benefited in their treatment programs from CBD oil. In 2018, the FDA approved the use of CBD to treat two rare forms of epilepsy: Lennox-Gastaut syndrome (LGS), which affects 3-5 year olds, and Dravet syndrome (DS), a genetic condition that is accompanied by fever-related seizures.
CBD is an oil and can be taken as an oral tincture via a dropper directly into the mouth or stirred into a cup of coffee or tea; it comes in the form of vape pens, edibles, salves, and capsules. Some capsules are swallowed and others are used as suppositories. Yup. Some people are inserting half-pinkie sized suppositories into their anus or vagina.
Sarah Peterson is one of those people. "Before I found out about pot suppositories, I'd tried everything for my horrible periods—Advil, Tylenol, ibuprofen. Nothing touched the pain. We're talking almost 26 years of these horrible cramps. So much pain that when I was young, I would miss school, and now that I'm an adult, it's hard for me to work on those days."
Some users prefer cannabis suppositories to other forms of CBP because of the high absorption rate and its ability to quickly provide relief.
CBD oil is not legal or sold in all 50 states, and there are specific state laws around its use. Where I live, for instance, you can order a shot of CBD oil in your morning coffee at the health food store. In other states, you need a prescription to have and use CBD oil.
Peterson went to a dispensary in her home state and told the woman owner how bad her endometriosis can be. The owner led Peterson to the bullet-shaped suppositories and advised Peterson to keep them in the freezer, insert one when needed, and then lie down for about 15 minutes. Peterson said that one lasts about four hours and it has changed everything for her; the pain in her pelvis and abdominal area got better. "You feel relaxed in there. Those muscles that are causing me searing pain—like constant little contractions all day long—they just relax."
Jennifer Stevens, a friend of mine and mother of two from South Carolina, said she has been using CBD suppositories for a few months, and they have been a game changer. "My cramps have gotten worse as I've gotten older, and especially after the birth of my youngest son. The suppositories ease the pain so I can function during the day instead of holing up on the sofa with a heating pad on my belly."
Stevens uses the CBD Living brand which has products ranging from bath bombs to gummy bears laced with hemp derived CBD oil.
I ultimately did not rely on CBD oil to relieve my pain or reduce my anxiety. I knew it was not addictive and would not cause a high, but I was afraid I could become dependent on it somehow. This was simply part of my journey and a choice I made for myself. But I have heard so many wonderful things about the pain relief CBD oil can bring. I know friends who are sleeping better, are less anxious, and have a better quality of life because of it. Just because I'm not up for exploring CBD oil, I would never advise someone against it if it felt right to them. The risks are low and the side effects are minimal.
And if you can find relief from PMS, menstrual cramps, or gynecological problems through the use of CBD suppositories, then go for it.
As Rob Schneider's character on SNL said, "You put your weed in there."
This article was originally published on