Whale Dies After Ingesting 17 Pounds Of Plastic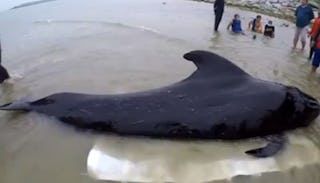 Image via DW News/Twitter
Dead whale was filled with 17 pounds of plastic
Our addiction to plastic is killing wildlife. The latest example is a dead whale who was found with 17 pounds of plastic in its stomach. Despite spitting out five plastic bags, the whale couldn't survive and passed away on Friday.
If you aren't familiar with our plastics problem, let us catch you up. We have filled our oceans with a lot of fucking plastic. The largest collection of ocean garbage in the world, known as the Great Pacific Garbage Patch, is twice the size of Texas, according to a scientific study published in the journal Nature. And all of that trash makes its way inside our precious wildlife. About 80 pieces of plastic weighing 17 pounds were found inside a whale in Thailand, NBC reported. A team of veterinarians spent five days trying to save the pilot whale, who ultimately died. "This plastic rubbish made the whale sick and unable to hunt for food," the Marine and Coastal Resources Department said.
Jatuporn Buruspat, who leads the Marine and Coastal Resources Department, told reporters that the whale likely thought the floating trash was food. Like a lot of people all over the world, Thais use a large number of plastic bags despite environmentalists and veterinarians warning us that if we don't curb our plastic addiction, we can only expect to see more death and destruction. World Oceans Day is June 8 and the folks who worked to save this pilot whale plan to use its death to raise more awareness of what we're doing to our oceans. "We will use the whale case and invite all sectors to show their intentions on how to reduce the use of plastic in Thailand," Buruspat explained.
Across the world, we dump about eight million tons of plastic into the ocean every single year, according to the United Nations Environment Programme. And all of that trash leads to the death of 1 million marine birds and 100,000 marine animals, and countless turtles and fish. "Plastic remains in our ecosystem for years, harming thousands of sea creatures every day," the United Nations explained. There are several ways you can help save whales and other marine life from death by plastic. Reduce your use of plastic, organize or attend a beach clean up, and talk to others about how plastics damage our world.
For more ideas on how to end our addiction to plastics visit Earth Day Network, which works with 50,000 partners in about 195 countries. While helping care for the plant on Earth Day and Ocean Day are necessary, we should be making an effort every day.
This article was originally published on