Ted Cruz Ditched Texas, So AOC Stepped Up––Here's What She Did
by Michaela Brown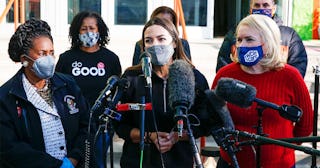 THOMAS SHEA/AFP/Getty
When waste of space scrotum-sack Ted Cruz literally abandoned his people during a state-wide crisis, his fellow cowboy hat wearin' gun totin' saloon-door swingin' GOP swamp inhabitants stopped at nothing to defend him. (Shocking!) Everything from "Everyone deserves a vacation!" to "It's not like he could have done anything anyway" was tweeted or stated in interviews from… well… other people like Teddy, who'd think nothing of abandoning their voting base at their darkest hour too. I mean, that's sort of the GOP's thing.
No, Ben. Not defrost the pipelines with a blowtorch. Just like, you know, give a fuck about the people who elected him.
Because as Cruz pulled the whole "What can I do? Nothing! Might as well jet off to Cancun!" line, we simultaneously heard of dedicated leaders like Beto O'Rourke (who lost the senate race to Cruz) and Alexandria Ocasio-Cortez (who represents a state 1,000 miles from Texas) actually doing productive, helpful things for Texans in need. Basically, while old Cruzie whisked his poor family away to Cancun as their fellow Texans literally froze to death, politicians who don't currently represent Texas did his job for him.
It turns out there was more—far more—that Cruzer the Loser could have done than literally nothing (which is, apparently, what the GOP expects of him). And AOC and Beto proved it.
For example, while Ted fled, Beto O'Rourke organized a phone bank that made 784,000 phone calls to check on senior citizens.
AOC went a different route and began fundraising, knowing that amassing funds was the first and most logical step in helping the people of Texas. (And she's fucking good at it.) She raised $1 million on day 1 alone, a number that's grown to $5 million over the past few days.
"The congresswoman's efforts come as Texas Sen. Ted Cruz, a political adversary, faces backlash — including from members of his own party — for flying to Cancun, Mexico, last week as many of his constituents were left without power or water. To raise money, Ocasio-Cortez is using Act Blue, a Democratic fundraising tool, that helps her build an email listserv as she receives donations," CNN reports.
Per the fundraiser's site description, this $5 million will "assist houseless, hungry, and senior Texans." And all contributions are split evenly among the nine organizations AOC and her team have partnered up with, including: Feeding Texas, Corazon Ministries, Central Texas Food Bank, Family Eldercare, Food Bank of the Rio Grande Valley, The Bridge Homeless Recovery Center, Houston Food Bank, ECHO (Ending Community Homelessness Coalition), and North Texas Food Bank.
But the New York representative didn't stop there, as she then put her own feet on the ground in Texas and worked alongside Democratic Texas Rep. Sylvia Garcia to pack lunches for food insecure families, distribute supplies, and tour the damage.
Yes, to clarify, a congressperson who doesn't represent Texas flew in to help, while the congressperson who does flew out.
A blunt article on Fast Company, entitled "AOC did Ted Cruz's job for him, instead of just trolling him on Twitter" pulled no punches in addressing the opposite approaches of AOC and her political nemesis Ted Cruz as Texas faced extreme crisis.
"Ocasio-Cortez's actions demonstrated that when your job is ostensibly to make people's lives better, you find a way to do just that in times of tragedy," the article reads. "One of AOC's useful strengths in such a situation turned out to be fundraising, and so that's what she did. If Cruz isn't working tirelessly to coordinate emergency relief efforts with senior Senator John Cornyn and Texas Governor Greg Abbott, which there is scant evidence of him doing, perhaps he could do a little fundraising himself."
Because, as she stated in a recent press conference at the Houston Food Bank, "When disaster strikes, this is not just an issue for Texans. This is an issue for our entire country. And our whole country needs to come and rally together behind the needs of Texans all across the state."
She also goes on to address that anyone—literally anyone—can come to the Houston Food Bank for help.
"No questions are asked. So you come up and you need help, you do not have to prove a damn thing. If you are documented, undocumented, no matter what your income, no matter your housing status, you can get help here. Which is one of the reasons we are so proud to support the Houston Food Bank. Because we don't—because we want to help everybody. You need it, we'll be there. That's the New York spirit. That's the Texan spirit. That's the American spirit."
And the world definitely noticed the stark contrast in how these political rivals responded to the needs of Texans (particularly the Twitter world) and, well, people had thoughts.
Actor Rob Reiner made this fitting statement:
Other tweets, like this one, simply show appreciation for her leadership at a time when Texas desperately needs a leader.
Or this one, which basically says "Thank you for setting an example for our kids of what it means to be courageous, step up, and think of others."
Texas will recover, and the efforts of AOC, Beto O'Rourke, and many other true American patriots will be a big part of that healing process. And we thank them for their tireless efforts and for their leadership. Hopefully others will learn from their example and uphold the office they were elected to from now on. (Or just be voted out. Preferably that, actually.)
To contribute to Rep. Alexandria Ocasio-Cortez's fundraiser and help the people of Texas recover, click here.