What Did I Learn From Having Cancer? Wear The Damn Swimsuit.
by Ashli Brehm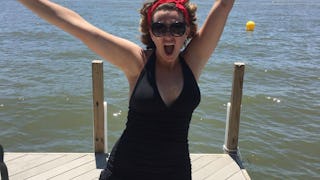 Ashli Brehm
People often ask, "What did you learn from having cancer?"
How do I even begin to cover all the things I learned from even just the waiting for a life-changing thing? How do I explain what I learned from putting my life in the hands of doctors, nurses, God, family, and friends? How do I possibly tell you how I look at the world so incredibly different through my cancer-spectacles? How do I sum it up?
Wear the damn swimsuit.
When I was 13, I got my first real bikini. It was blue and white gingham with a yellow daisy in the middle. I remember being so excited to wear the suit for the first time because the amount of padding almost made me look like I had a little more in my bust than just buds.
And then I saw my friends in their suits. And my spirit was crushed. I was 13 years old, and I already felt like my body was inadequate. Not enough. Lackluster.
When I was 17, I grew hips. I had begged for some curves for years and they settled on my thighs and my waist. These were not the curves I'd envisioned when I'd submitted my requests. And I immediately felt like I got the shaft.
I rarely wore shorts for almost a decade. From my late teens to my late 20s, it was more common to find me in jeans or skirts or dresses in the summer months. I bemoaned the physique I'd been "given" and decided I would rather be sweaty and hot than let anyone catch a glimpse of the cottage cheese city that seemed to be part of my DNA.
I had babies and during pregnancy, I felt beautiful. I would tell people that, too. Like it felt okay to admit that I felt like I had beauty because I was harboring a human. I was legit glowing and the curves felt like they were in all the right places and I didn't compare my body to anyone else's because I was growing humans. And that felt like a miraculous situation for my vessel that I'd berated for so many years.
The babies were on and off and on and off and on and off. My body changed. As bodies do with time and age and babies. Over and over. And over and over. And I dreaded swimsuit season. Every year, even if I put on a suit, I dreaded the times when my thighs and my stomach would be on display next to others.
I've been "fit and healthy" and "sick and skinny" and I've been truly healthy and had a little more meat on my bones. And the reality is, there are really big things worth fearing in this world. And yet I feared my swimsuit.
My body has been torn all apart and put back together. I've gone through something that made me think maybe I wouldn't know this body of mine anymore. That I'd only be a soul wandering around.
And I wonder now: what did I miss because I wouldn't wear the damn swimsuit? Because I had more anxiety at times over the thought of wearing a suit than I did when I rode up in a plane and skydived down? Even more importantly, I've realized this: if in my 35 years, there hasn't been a year in more than three decades that I can recall being one hundred percent "comfortable" in a suit, then I'm the one holding myself back. I'm the one comparing my legs and stomach and booty. And I gotta let it go. If I want to truly live in the moment of the moments, I've got to Elsa the situation.
And so I must tell you. What I learned from cancer. Is this. All of this.
Wear the damn swimsuit. Wear it. If you want to be in on the action. Splashing with kiddos. Soaking up the sun. Not caring if you get soaked. Not caring that your thighs are friends.
But the swimsuit… it leads to so much more. So many ways we don't really live it up because… because.
So don't just wear the swimsuit. In fact, if swimming isn't your thing then…
Eat the donut.
Dance when there's no dance floor.
Sing like you're on The Voice. In the shower. In your car. On the stage.
Take an evening jog when the sun is just starting to set and the chill of the night is mixing with the warmth of the day.
Tell someone thank you. Call someone. And say… thank you.
Snuggle just a little longer. Let the dishes wait. There will always be dishes.
Write. And share. And tell your story. You're the only you there is.
Travel to see the world through your eyes. Or even just the neighboring town.
Figure out where you came from. What your roots are. What those who came before you did to make sure you could be here.
Sing out loud in church. Pray for someone you don't even know. Love one another.
Learn to cook your favorite food. Or find the place where you like it best. And eat it.
Read the words you love voraciously. And never feel guilty for not getting the laundry done because you were reading. There will always be laundry.
Watch your favorite flicks from your childhood. And prepare to feel like you're 9 again.
Lie in the grass and let your puppy pounce all over you.
Look up. At the clouds. At the sky. At heaven. Soak up all that is bigger than you.
Spend time with people who make you laugh. Cry. Feel. Those are your people.
Do a cannon ball into the cold pool. Skinny dip. Let loose.
Milk a goat. Touch a snake. Hold a bird. Catch lightning bugs in a jar. See and feel and experience nature and all the creatures around you.
Put a plant on your desk. Or a little lamp. Or a candle that you love. Make your space a place that you love. Or at least one that feels a little like yours.
Try a totally new thing. It could be crimping your hair or switching up your deodorant. Try something new.
Go golfing. Take up tap dancing. Water ski. Register for a 5k. Do something to surprise your body and your muscles and your agility.
Eat fresh food. Food that tastes new. And bold. And just savor the flavors.
Sweat. From running. From biking. From dancing. From laughing.
Kiss. Hug. Hold a hand. Have a cup of coffee across from someone who makes you think. Connect to other humans.
When something comes at you that you want to do but fear is holding you back, get off the pool deck and make a splash.
Live the day. Whatever that means for you. Live the day.
Shine your own light. Cut through the darkness.
Life is shorter than short. No matter how long yours gets to be. Wear the damn swimsuit.