What Everyone Should Know About AQI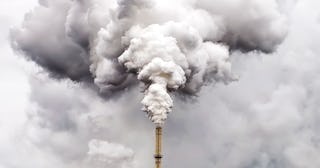 ESOlex/Getty
The West is burning. The sky is a shade of red that might be beautiful, if it didn't signify that the West is burning. Ash is collecting on porches, on sidewalks. People are losing their homes and their lives.
The air is thick. The horizon is hidden. And for the first time ever, because of the smoke and fire in the air, many are checking the air quality index, the AQI, on a daily basis to determine whether they can go outside.
What is AQI?
The AQI is an index created by the Environmental Protection Agency (EPA) to monitor and report on the daily air quality. It lets you know how clean or polluted your air is, and what resultant health impacts might affect you. More vulnerable groups, the elderly, children, and people with lung disease, are particularly sensitive to poor air quality.
Any number over 100 is considered to be unhealthy, first for sensitive groups, and then, as the number increases, for the general public, as well.
Why Does Air Quality Matter?
Air quality is not just a matter of the sky turning red or the horizon being hidden behind a cloud of dust and smoke. Air quality impacts health. In an article for the New York Times, Yifang Zhu, a professor at the U.C.L.A. Fielding School of Public Health, confirmed that short term exposure to polluted is associated with respiratory problems. Long term exposure likewise raises the risk of a number of health issues including: asthma, lung disorders, heart attacks and strokes.
How To Read The AQI?
The AQI is split into six color coded groups, which correlate to specific AQI values. They are:
Good: Green level with an index value between 0 and 50. This means the air quality is satisfactory and air pollution poses little to no risk to individuals.
Moderate: Yellow level with an index value between 51 and 100. A yellow level indicates that the air is acceptable. However, people who are sensitive to air pollution may be at some risk.
Orange: Unhealthy for Sensitive Groups with an index value between 101 to 150. The general public is likely unaffected, but members of sensitive groups may be at higher risk for health effects.
Red: Unhealthy with an index value between 151 and 200. Some members of the general public may experience health effects. Members of sensitive groups may begin to experience more serious health impacts.
Purple: Very Unhealthy with an index value between 201 and 300. The risk of health impacts are increased for every person.
Maroon: Hazardous with an index value at 301 or higher. This color signifies emergency conditions and everyone is more likely to experience health impacts.
As of this writing, Portland, Oregon's AQI is 223. In contrast, New York City is at 33. What that means is that people in Portland are in the Purple: Very Unhealthy category for the AQI. Anyone living in a Purple zone is at risk for very serious health problems.
What Does AQI Measure?
The AQI measures five major air pollutants, including: ground-level ozone, particle pollution, carbon monoxide, sulfur dioxide, and nitrogen dioxide.
Most relevant to September 2020 is the particle pollution, which is emitted from construction sites, unpaved roads, fields, smokestacks or fires. Particle pollutants come in two sizes: PM2.5 and PM10. PM2.5 is the smaller of the two particles, the most likely to be emitted from forest fires, and also the most dangerous for children, the elderly, and people with heart or lung conditions. These particles are able to travel deep into your lungs and possibly your bloodstream. Particle pollution has been linked to cardiac arrhythmias and heart attacks.
If two pollutants are over 100, the number reported will be the higher of the two values, but the report should note that levels of both pollutants are high so that sensitive groups can plan accordingly.
What Is A Normal AQI?
For most communities in the United States, the AQI is usually below 100, according to the EPA. Values higher than 200 are not common and values above 300 are "extremely rare."
AQI varies largely based on the season, but can fluctuate within a given day. In the warmer months, ozone tends higher because heat and sunlight raise the rate of ozone formation. In colder months, carbon monoxide tends to be high in some areas because car emission control systems operate less effectively. Particle pollution levels are unaffected by seasons and can be high any time of the year.
What Apps and Information Are Best To Consult?
To find out the AQI in your area, the best website to consult is: https://www.airnow.gov/. Type in the city, state, or zip code of the area for which you're interested in learning the AQI and the value appears.
The EPA's AirCompare is another site that will allow you to compare air quality in different cities and towns, and allows you to see trends in various cities and towns.
If email is more your speed, AirNow also offers alerts delivered right to your inbox when air quality is forecast to be of concern in your area. Sign up at EnviroFlash (www.enviroflash.info) for this free service.
A number of apps are also available. AirVisual Air Quality Forecast, EPA AIRNow, Air Matters, Air Quality App-BreezoMeter, and Plume Labs: Air Quality App are just a few of the apps that make learning your area's AQI as easy as swiping open your phone screen.
The West is burning and the sky is on fire. Air quality is on the top of everyone's mind now. People in on the West Coast are in a particularly precarious state, but the truth is that air quality is something we should all be thinking about. Because clean air is not something to be taken for granted — not during fires, not during a pandemic, and not ever.
This article was originally published on