'What Are You Going to Do All Day?': When Your Baby Heads To Kindergarten
by Tara Schoeller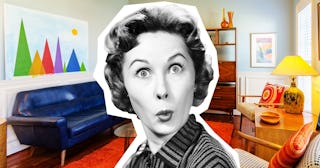 Scary Mommy, Jens Behrmann/Unsplash and Debrocke/ClassicStock/Getty
"So … what in the world are you going to do all day?" I've been asked this same question numerous times all summer long.
Sending your baby to kindergarten is a big deal, Mama. I see you and understand how it feels sending your first or last child to school full time. It's a huge milestone! One that deserves pause. One that deserves applause. One that deserves a pat on the back and quiet whisper, "You did it." You have survived the hardest years in some ways, yet are entering different challenges and rewards of having older children.
This year, I am sending five children to school full time ranging from kindergarten to high school grades. With my youngest entering kindergarten and my eldest twins turning 15, that means I have spent the past 15 years having babies and caring for younger children. That's an entire decade and a half of just getting babies and littles grown, and from point A to point B, in all constructs of life. As I waved goodbye to my youngest and my eldest twins entering high school this week, as well as the two children in between, I smiled huge with sentimental emotion. It goes by so fast, it's true. "Don't blink," they say. In a blink of 15 years, my two eldest children will begin driving soon and my youngest will be reading chapter books and so much more.
No more diapers to change, or babies to nurse. No more strollers to push or car seats to lug in and out of cars. No more babies or toddlers to hold on my hip or in a baby carrier. No more pre-K drop offs and pick-ups. No more mommy play groups. No more dropping children off in my robe with un-brushed hair and teeth and a frazzled, rushed morning state of mind. No more nursery rhymes or ABCs or rocking to lullabies. No more finger painting or play dough and endless hours to play the day away. No more story times at the library or magical and silly games of make believe. No more board books before bed. No more little voices with a cute, high pitched squeak. No more little hands to be held or 100 fingernails to clip. No more Barney or Dora, or Caillou (thank God), or Daniel Tiger. No more cutting food into tiny little pieces.
No more children in tow during the weekdays is an epic transition to say the least. It's truly a bittersweet time, this stage of life as a mama looking behind to see no one in car seats napping behind you, having been replaced with a gaggle of older children texting instead. I will truly miss these precious little people and these stages of parenting, as hard and beautiful as they were all wrapped up into one. Little people have a way of seeing the world in such a pure, uninhibited and un-jaded perspective, which is contagious to be around. As I move into this next stage of parenting, I can't help but think that every stage of parenting is bittersweet on some level.
So, what in the world am I going to do all day?
It's been a lot of hard work and beautiful chaos getting my gang to where they are in this precious transitional stage of life, and I'm going to celebrate … by doing nothing! And after I am done doing nothing, I am going to celebrate the fact that we made it through! I'll be celebrating all of the accomplishments, as well as all of the curve balls and aches and pains and multi-tasking and sleepless nights and poop and puke and ER visits and middle of the night bad dream visits. We parents know that raising humans from ages 0-5 takes practically super human abilities a lot of days. It has taken a lot to get us here.
What in the world am I going to do all day? In this moment, I plan to do nothing but savor this milestone, amidst the golden silence, with coffee in hand (of course!). Take time, mamas, to hold their little hands and give extra hugs. Because it really does go so fast.
We are Scary Mommies, millions of unique women, united by motherhood. We are scary, and we are proud. But Scary Mommies are more than "just" mothers; we are partners (and ex-partners,) daughters, sisters, friends… and we need a space to talk about things other than the kids. So check out our Scary Mommy It's Personal Facebook page. And if your kids are out of diapers and daycare, our Scary Mommy Tweens & Teens Facebook page is here to help parents survive the tween and teen years (aka, the scariest of them all.)
This article was originally published on