What Happened When I Could No Longer Say 'Not My Department' At Home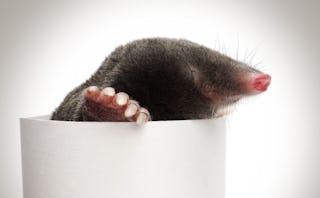 Although it's the hallmark of poor customer service, the phrase "Not my department" is increasingly used as a valid explanation in our house, while our domestic corporation has evolved into an ever more sharply defined conglomerate of varied available amenities.
"Mom, can you play a video game with me?"
"Sorry, that's not my department."
"Dad, can you help me find matching socks?"
"That black hole of a dresser drawer is not my department—ask your mother."
Recently, a corporate cog has been thrown into the works of the finely tuned machine that has perpetuated a stable level of relative domestic bliss, or at least kept us from a hostile takeover: My husband has taken a position overseas for a year.
Thus, temporarily, I am now managing all departments, and never have I been so keenly aware of the need for division of labor to maintain efficiency. Now, instead of passing the buck on tasks that do not fall within my area of expertise, I must add them to my project roster, investing my time and energy, with only a faint hope of being reimbursed at some future date.
Shoveling snow? Not my department…until now.
Burying family pets? Definitely not my department, but not the sort of task that can be put on hold.
Dealing with frozen pipes? This is actually a new department—that apparently now belongs to me.
Catching rodents in the house? Looks like I've just been promoted.
In fact, these new pest control skills were put to the test over the past week; a project that launched less than auspiciously with the damning words uttered by my 9-year-old son: "I think I just saw something crawl under that door." I fought my initial urge to actually scream "Eeek," like some comic book character, and instead presented a facade of calm. After all, this was now my department.
We determined it must be a mouse, although my son insisted he had not seen a long tail. Ironically, until their recent passing, we had been the proud pet owners of two large male rats; one would have thought my sons and I would have possessed softer hearts toward a tiny trespasser looking to take shelter from the cold.
However, one would have been wrong. "Kill it! Kill it!" my 9-year-old chanted, perched precariously on top of the dining room table so as not to cross paths with whatever was in our utility closet.
I immediately piled everyone into the car to drive to Home Depot (a destination that could not be further outside my jurisdiction) to procure the necessary tools for success—a two-pack of Tomcat-branded "snap traps," guaranteed "effective, reusable and easy to set." Sadly, none of these marketing promises were to be delivered on.
Although I was not previously aware that a dollop of poorly placed peanut butter can render a mouse trap ineffective, I tucked away this helpful tidbit of information for future use, or perhaps to include in my summary report when I transferred this position to somebody else, which I hoped would be as soon as possible. Several days, two traps and no mouse later, I began to wonder whether our guest had moved on to better accommodations down the street.
Not until that weekend, during a visit from my mother, her husband and my sister, did the mouse make itself known again. Hearing a faint rustling from within a cabinet beneath the sink in my kitchen, I opened the door to reveal several small piles of rodent droppings…all over the fine china and silverware we keep for special occasions—occasions quite different than this one was turning out to be. As I made a mental note to burn everything in this now obviously contaminated cabinet, I noticed a slight movement within my field of vision. A half empty box of coffee K-cups was shaking. There was definitely something inside it besides coffee.
Had I been alone in my house, I would have had no choice but to find a way to remove the mouse-in-the-box, likely by donning my rubber oven mitts over my husband's heavy snow gloves over my own gloves and carefully placing the box into several layers of shopping bags and holding the resulting bundle as far away from my body as possible to be disposed of over the fence on my unsuspecting neighbor's lawn. Either that or permanently move. But, with other adults in the house, it dawned on me that I had another option.
I decided to outsource.
After my sister disposed of the box in the dark of my backyard—in a much more regal and sophisticated manner than I could have mustered—I was certain we had seen the last of the tiny trespasser. So, it was all the more frustrating when my sister informed me the next afternoon that she just saw "something slip under the closet door." "No tail," she added. Could it be the same creature? Or a similarly handicapped friend?
Although I feared multiple trips to Home Depot within the same week might damage my reputation, we had no choice but to return for more ammunition. I was quickly becoming an experienced purveyor of pest control contraptions—something I did not plan on including on my resume. Along with the additional snap traps and high frequency sonar rodent repellent, I grabbed two humane traps, mostly to prove to my mother's vegetarian, PETA card-carrying husband that I'm not a cold-blooded killer.
My sister and I arrived back at my house to a scene that would have been comical were it not so rife with panic: My mother's husband and my older son yelling at my bookcase. "We caught it!" my son squealed, and I realized they had trapped the mouse behind the bookcase. Each time the mouse poked its quivering nose out beyond the shadows, my son barked it back. "Hey! Hey! Heeeyy!"
"Quick, get one of the traps out!"
The project had become an outsourced team effort. A team made up of my mother's husband, my sister and my son. A team that did not require my full participation. I baited the trap, handed it over and took a step back. Any guilt I felt at not taking a bigger role in the capture of a small mammal in my own living room was superseded by the tremendous relief of not having to handle this alone. After months of overseeing all the departments, I was grateful to transition something to someone else in the room and take the equivalent of an emotional coffee break.
As if purporting some evil (but tiny) plans of domestic espionage, our mouse turned out to be a mole, despite the insistence of numerous Google searches that moles do not like to be above ground, scurrying about living rooms and nibbling on peanut butter. We reasoned he was confused, or perhaps was having an identity crisis. ("Maybe he hangs out with mice," I suggested. "Or covets the life of cockroaches.")
My sister and I took no more chances and drove several miles away from my house before freeing the tiny mole into the snow. Thankfully, we haven't seen him (or any compatriots) since. Unfortunately, without other visiting family members, I'll be forced to take on the position of pest control alone should additional mice, moles, ferrets or small Chihuahuas invade. But only on a temporary basis. Because it's definitely not my department.
This article was originally published on