A Phone Charger, Hair Ties, And Other Childbirth Hospital Bag Essentials
by Dana Baardsen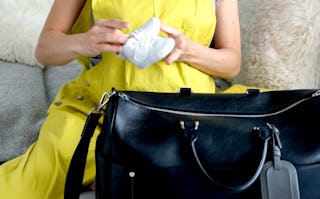 Getty
There are a million hospital checklists out there, but most made our head spin with "necessities" that weren't, well, necessary in the least. Here's all you really need to pack in your hospital bag.
1. Your phone. I mean, duh – this shouldn't even need to be on the list since it's basically an appendage, but you don't want to forget it in the heat of the moment. And the charger, obviously, too. Because a dead phone never did anyone any good, especially if your phone is your camera, too. If you want to get really fancy, consider tucking a portable USB charger in your hospital bag so you can charge it up at any time.
2. Hair elastics. This is labor, not a beauty pageant, and you'll want your hair out of your face. You can totally go for cute scrunchies, too.
3. Snacks, because hospital food sucks. Or full meals. With all three kids, minutes – I'm not kidding, minutes – after delivering. Don't necessarily bring a pizza to the hospital with you, but pack some goodies in your hospital bag so your partner can bond with the baby instead of being forced out of the room to satisfy your new-mom munchies.
4. Trashy magazines. Or a computer. Or iPad. Or Kindle. In other words, something to entertain you. The nurses will take the baby constantly for this and that and you're going to be bored out of your mind.
5. Whatever cosmetics you'd normally pack for an overnight trip… because, duh, you're going on an overnight trip. Think: Shampoo, hairbrush, toothbrush, toothpaste, deodorant, face wash, lotion, light makeup – hello, pictures – etc. Bring a toothbrush for your partner, too, because you don't need to be dealing with someone else's bad breath when you're cranky enough, and lip balm because hospitals are notoriously dry. We love makeup from The Honest Beauty line.
6. A pair or two of cozy, nonskid socks for walking the halls and keeping your feet cozy.
7. Sugar-free sucking candy because your mouth is going to be dry as the Sahara during labor and, tragically, you can't eat or drink.
8. An outfit for baby. And a carseat, of course, but that can't fit in your hospital bag.
9. Cash, insurance info, hospital forms, and your ID. You won't get far without them.
11. A cozy maternity gown and a comfortable outfit for you to go home in. If you thought you'd leave the hospital no longer looking pregnant, you're in for a rude awakening. You will. If you aren't psyched about the hospital gown, bring a robe or sweatshirt, too, that you can wear during your stay.
12. Bring support for your tatas. You don't need to pack your perkiest push-up bra, but just know that (especially if you attempt breastfeeding) the girls will be goin' through it. Items like freezable bra coolers and nipple balm will help.
Read More:
These Hospital Gowns Are So Cute You'll Want To Wear Them Beyond Delivery Day
These Are The Most Popular Non-Toxic Crib Mattresses On The Market
7 Actually Tasty Prenatal Vitamins That Are Not Horse Pills
Our mom experts only recommend picks they really love. We may earn a commission on purchases made through links from our site, but if we love it, we know you'll love it. And we Scary Mommies gotta stick together.
This article was originally published on