Your FAQs About COVID Vaccines For Kids, Answered
by Karen Johnson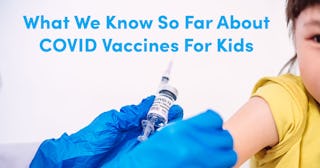 Tang Ming Tung/Getty
This time of year is marked with sadness for lots of reasons, and in early 2021, it seems even darker. We've been pandemic-ing (yes, it's a word) for nearly a year now. And in a season that's already synonymous with depression, bitter cold, germs, and the sun going down at four in the afternoon, adding on 11 months worth of pandemic-fatigue makes for the perfect storm of… well, absolute shit.
In our family, the one bright spot on these long, dark days is the dream of a vaccine. We fantasize about the day our family can finally say we've all been vaccinated and can take that long-awaited deep breath, knowing we did all we could do to protect ourselves and our community from this deadly virus.
We dream about everything we'll do—hug Grandma and Grandpa, go out to dinner, take a trip, and have friends over—all top the list.
And it's actually starting to feel real, isn't it? People are getting vaccinated left and right, and many states have moved on to the next group(s) in line. However, although frontline workers have been vaccinated, and the new batch for those 65+ is rolling out, what we don't hear much about, at least not yet, is a vaccine for kids. What do we know so far? When do health officials expect it be available? Will it be safe? Will there be side effects? Will kids be able to get it before returning to school this coming fall? Will there be age groups for different vaccines, available at different times?
Thankfully, Dr. Katelyn Jetelina, AKA "Your local epidemiologist" on Facebook, is here to answer many of these questions. (And yes, she's a real expert, not like your neighbor Susan who posts unfounded anti-vax pseudo-science crap on her social media and swears it to be true.) Dr. Jetelina has "a Masters and PhD in Epidemiology and Biostatistics," per her bio. She's an assistant professor of public health, works in a research lab, and also has a secondary appointment at a med school. She's the type of "Facebook resource" we should listen to, as she actually knows a thing or two.
As we anxiously await the arrival of a pediatric vaccine, it's important to keep a few things in mind. First of all, there is a greater fear around safety issues, side effects, and long-term effects when it comes to young, vulnerable, still growing children, than there is when it comes to adults who are willing participants in the study and can consent for themselves. Also, as Dr. Jetelina addresses, kids are often asymptomatic, so they'll need to be tested frequently, and the methods and procedures in pediatric trials will, therefore, look different.
Basically, experts really need to get this shit right when it comes to kids. Too much is on the line. And for all these reasons, children's vaccines take longer to develop.
However, there is good news—especially if your child is 12-15. That age group's vaccine is already in the works, with 2000 study participants enrolled. And, Dr. Jetelina says a vaccine for older kids could be available sometime this year! Woohoo. (A vaccine for teens ages 16+ has already been approved.) Younger children, however, might have to wait longer. For example, the Pfizer trials for the 5/6-11 year age group vaccines aren't starting until the spring. And, her post adds, parents should not even expect data on a vaccine for kids under 5 until 2022.
Furthermore, other details have also been revealed, as the CDC Advisory Committee on Immunization Practices met on January 27 for an emergency meeting. (Thankfully Dr. Jetelina, "Your local epidemiologist," has provided Cliffs Notes.) Such details you might be interested in include: true placebos (like saline) are being considered; another vaccine hasn't been proposed as a control yet; and multiple dose levels (full, half, and quarter dose) will be tested.
Another important piece to the vaccine discussion that Dr. Jetelina addresses is the big "why"—why do kids need a COVID-19 vaccine at all?
Yes, the numbers are better for kids than they are for adults with regards to COVID, but still, it's important to note that 2 million pediatric cases of COVID have been documented, the CDC reports, and 200 children have died. Also, the American Academy of Pediatrics reminds us that because kids often show mild or no symptoms, pediatric cases might be vastly under-reported, meaning far more kids had or have COVID than we know about (and can, therefore, have transmitted it). "The CDC estimates actual case rates for children ages 5-17 years may be close to those for ages 18-49," AAP says.
So yes, even though children tend to fare better than adults when contracting COVID, they definitely need to be vaccinated. "Children represent about one-fourth of the population," AP News reports. "And for the U.S. to reach 'herd immunity,' or widespread resistance, about 70% to 85% of the population must be vaccinated."
Also, not all kids are asymptomatic. In fact, lots of kids have gotten very sick from COVID, including contracting MIS-C (a serious illness related to COVID of which 1,659 cases have been reported, 26 of which ended in the death of the child). And finally, Dr. Jetelina adds, there is not much we know yet about long term morbidity in children who have tested positive for COVID, and that's concerning. So the quicker we can get kids vaccinated, and therefore protected, the better.
Also, another reason our country needs a children's vaccine for COVID-19 is due to the disproportionate effect this pandemic has on certain populations throughout America. Emily Erbelding, M.D., M.P.H., director of the Division of Microbiology and Infectious Diseases at the National Institute of Allergy and Infectious Diseases, addressed this at a recent ACIP meeting, stating that "there is a disproportionate burden among children in minority communities, and there's both direct and indirect effects to children and all of society. This burden will continue if we don't vaccinate and we just wait for herd immunity to occur over time."
But many parents are scared—how do we know this vaccine is safe? The American Academy of Pediatrics assures us that we can trust the process, and trust this medicine. Approximately 23.5 million COVID-19 vaccine doses have been administered, and, according to Tom Shimabukuro, M.D., M.P.H., M.B.A, a member of the CDC's COVID-19 Vaccine Task Force, we as a nation have "implemented the most intensive and comprehensive vaccine safety monitoring program in history."
Furthermore, have you ever heard of the "national Vaccine Adverse Event Reporting System"? It's a real thing, for this exact reason, and AAP says it has received 9,096 reports regarding the COVID vaccine. "Of those, 89% were nonserious adverse events and 11% were serious. For every million doses of COVID-19 vaccine administered, about 372 nonserious adverse events and 45 serious adverse events have been reported. (The most common of these are pain, fatigue, headache and myalgia, which is another word for muscle pain).
But if you're worried about a serious effect like anaphylaxis, don't worry—medical experts are too. In fact, according to the AAP, "Health officials are closely monitoring reports of anaphylaxis but said they are rare, occurring in five of every million doses of the Pfizer-BioNTech vaccine and 2.8 per million doses of Moderna vaccine."
Every vaccine has the potential for side effects or "adverse events," and the COVID vaccine is no different. But the percentages of serious adverse reactions are extremely low. This means that due to such rigorous safety monitoring, it's been proven safe, and parents can absolutely trust it.
That's what we know so far, folks. It's coming, hopefully soon, for our kids. And, it's safe.
So yes, it's dreary February. The ground is frozen. Our cars are frozen. Our faces are frozen. And it always seems dark outside. But if you look hard enough, you might be able to see the light.
Information about COVID-19 is rapidly changing, and Scary Mommy is committed to providing the most recent data in our coverage. With news being updated so frequently, some of the information in this story may have changed after publication. For this reason, we are encouraging readers to use online resources from local public health departments, the Centers for Disease Control, and the World Health Organization to remain as informed as possible.
This article was originally published on