The Special Reason I Let My Kids Jump In Muddy Puddles, And You Should Too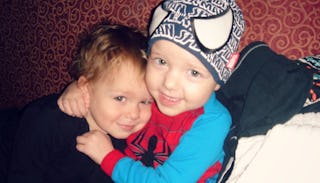 Cindy Campbell
My boys were born 16 months apart. They were wild and rambunctious toddlers, and I couldn't relate to the moms on the playground who didn't allow their little ones to watch TV. I kept my thoughts to myself, but I actually yearned for a TV show that would keep their attention—even for five minutes—so I could do the dishes without turning around to find Cheerios all over the floor.
Of course I understood that a toddler gets much more from interacting with parents as opposed to watching TV, but I was never going to be the mom who sits on the floor for 12 hours with my young children concentrating solely on their enrichment, language development, and motor skills. It just isn't me. To be honest, I suck at playing, and after just two hours on the floor with two babies, I was about ready to pull my hair out.
"I wish they would just watch some TV!" I cried, knowing full well that I was breaking every cardinal rule of modern-day parenting. I could hear shaming, shudders, and tsks coming from the virtual parenting world around me.
Then, it happened. One glorious Sunday morning, I heard a peculiar English accent and what sounded like snorting, coming from the playroom, which was otherwise eerily quiet. Then I heard my oldest laughing out loud while his baby brother was napping. Mommy Pig, Daddy Pig, Peppa and George had captivated my son, Ty, because Daddy Pig lost his glasses on top of his own head.
It kept his attention for 10 wonderful minutes, and this was the beginning of what would soon become his lifeline.
After a few consecutive nights of sleeplessness, Ty was suddenly diagnosed with a brain tumor when he was 2 years and 10 months old. One afternoon he was climbing the high slide like an absolute lunatic, and the next he was in a hospital bed getting more needles in one afternoon than he had experienced in his lifetime. In an instant, we were thrown into a rabbit hole kicking and screaming, and we had lost all control. Nothing will ever be the same again. Now I hurt more than I've ever hurt; I love deeper than I've ever loved; and every small moment I have with my children is appreciated more than I ever knew I could appreciate something.
Ty's first surgery left him with debilitating bacterial meningitis in his spine, after which he was too weak to walk. Before he could regain his strength, treatment began and knocked him down so hard we landed back in the hospital. In fact, over the next two and a half years, my poor baby never got back on his feet to walk independently again. He endured 13 rounds of chemotherapy, 45 rounds of radiation, 19 surgeries, and more than 250 nights in a hospital bed.
So be careful what you wish for—we watched a lot of TV.
Peppa Pig, Max & Ruby, Wow! Wow! Wubbzy—these adorable shows brought my son so much joy when he was otherwise in so much pain. His little brother ran around the house destroying everything in sight, while my big boy sat in his favorite spot on the couch, surrounded by toys, eating square pretzels, and laughing at his best friends as their silly stories unfolded onscreen in front of him. I was so grateful for his smiles and laughter. Preschool programming was a blessing, as was every single blessed second I got to spend with my son.
One morning he woke up paralyzed from head-to-toe, unable to hold up his head and with little movement in his arms and legs. The treatment that was intended to save his life was slowly destroying him. His sadness was palpable. Always putting up a strong front, I asked him, "What do you want to do when you get all better?"
"I'm gonna jump in a muddy puddle," he whispered. And his eyes lit up at the thought.
This was no surprise. My little boy was so full of life. Before stupid cancer, he was a runner, a climber, a swimmer, a jumper. He yearned to have his childhood back.
Ty died just a few days after his 5th birthday, and I like to imagine that he is finally free to jump in muddy puddles, dance in the rain, slide down rainbows, and run among the wildflowers. He was otherwise robbed of the simplest things fighting this beast (as are the 13,000 other children who are diagnosed with cancer in the United States each year).
My husband and I have since launched The Muddy Puddles Project, a fundraising platform for the Ty Louis Campbell Foundation that enables us to fund childhood cancer research in his memory. But it's more than that. It is a reminder for parents everywhere to let our kids be kids in honor of those who can't.
Out of the blue, I recently received an email from the marketing director for Peppa Pig. She shared some program clips (that I already knew by heart) and explained that Peppa, too, loves to jump in muddy puddles. I chuckled to myself knowing that it was most certainly Ty's "friend" Peppa Pig who inspired his wish to jump in muddy puddles when his cancer was cured. The Muddy Puddles Project has since been named Peppa Pig's charity of choice.
My beloved boy continues to make magic all around us. I believe that Peppa did not find us by coincidence. Rather, there is a very special force at work to make sure parents everywhere are letting their kids jump in muddy puddles, letting them get wild with finger paint and glitter, reading one more story at night, and giving piggyback rides to bed, because soon they'll be all grown up and see dirty clothes and wet shoes as nothing but a nuisance.
In memory of Ty and in honor of all children who are affected by cancer, I hope you will always choose to jump in muddy puddles!
"The days are long, but the years are short." –Gretchen Rubin.
April showers bring…muddy puddles! Join Peppa Pig and the Muddy Puddles Project as we celebrate National Jump in Muddy Puddles Day on April 1. We invite children across the country to slip on their wellies—rain or shine—and stomp in some muddy puddles to raise awareness for childhood cancer. In honor of all children who have battled, are battling, and will battle cancer, please help us give cancer the boot! Visit muddypuddlesproject.org for more information, and join our online community at facebook.com/muddypuddlesproject.
This article was originally published on