I'm So Ready For Summer 'Break' To End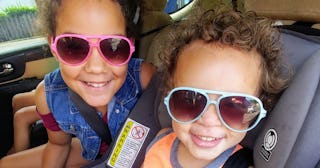 Courtesy of Kristen Heelon
We've all seen the posts on social media reminding us parents that we are only allotted 18 short summers with our precious children before sending them off into the real world and losing them to their own lives. The authors of these gentle reminders urge us to enjoy every moment, bask in the love that abounds during these 2 1/2 months every year. Make memories, laugh, vacation, play, create, cuddle, and then capture all of these moments on film and share them on social media in all of their familial glory to gain thumbs up and heart emojis.
Well, here we are on day 52-ish of summer vacation and I am here to tell you, this momma is officially ready to tap the eff out.
You see, there were a couple of shining weeks there, when summer was anew, when we crafted and had friends over. We took long walks and had designated lunches. We woke up in the mornings ready for full days of play in the sun, in the pool, at the playground, at the splash pad, back to the playground. We did all of that. And now, we've had enough.
I've gotten to that all too familiar, downward spiral of the end-of-summer blues — and it is hitting hard! The kids' routines have been so out of whack for so long, that they barely sleep. Staying up well past bedtimes, and waking up much earlier than the first cup of coffee is set to automatically brew into my favorite mug. Children begin crawling into my bed in the early morning hours, sprawling limbs across my chest, poking me in the face, asking for juice, gummies and popsicles, all before 7 o'clock.
The endless demands for snacks, play dates, trips to the park, glasses of water and those little screechy whines, tirelessly complaining that there is absolutely NOTHING to do, play on a repeated loop in my head all day long. They slowly drive me to the brink of insanity. I wake up most mornings with a feeling of dread, thinking of the long day awaiting me, held hostage three to one by this little trio I created. And then ending most nights in tears of frustration, guilt or annoyance, with my husband by my side oscillating between consoling me or questioning if it's really as bad as I say.
And it's not just me; my children have reached that point of restless boredom that seeps into their very being. They rise in the morning, plotting new ways to stay entertained by annoying each other. This then leads to retaliation, which in turn leads to crying, which in turn leads to tattles, which leads to this mommy's blood slowly bubbling into a full on roaring boil until I have lost my shit altogether and all 3 children and myself end up frustrated and in tears.
And then, after sitting down for a brief moment of silence, after doling out their eleventh popsicle of the day, I scroll through Facebook and see all these happy faces plastered on the screen. The trips to the beach, the hand holding on wooded trails, the sisters sweetly brushing each other's hair. And I laugh, a knowing chuckle. Because I, too, post the highlight reel on social media. But I know in all actuality, there is most likely a mom behind the camera of that shot threatening to take away a toy if their son doesn't just pose for one measly picture.
So mommas, and daddies too, who have begun counting down the days until their sweet little cherubs are sent back to school, do not feel ashamed. Even though we all tend to share our shining moments, know that the mundane ones are naturally starting to outweigh the extravagant ones. We are all over touched, fed up, and in need of a nice, long, kid-free break.
Tonight, as you sit back and relax after a day fought in the trenches of parenting, know that sometimes just making it to the end of the day is enough, and the easy routine of school and life as it should be will be here in just a few short weeks. Hold on, stay strong, and when all else fails — throw them some popsicles!
We are Scary Mommies, millions of unique women, united by motherhood. We are scary, and we are proud. But Scary Mommies are more than "just" mothers; we are partners (and ex-partners,) daughters, sisters, friends… and we need a space to talk about things other than the kids. So check out our Scary Mommy It's Personal Facebook page. And if your kids are out of diapers and daycare, our Scary Mommy Tweens & Teens Facebook pageis here to help parents survive the tween and teen years (aka, the scariest of them all.)
This article was originally published on