Where the F#$& Is the School Bus? There's an App for That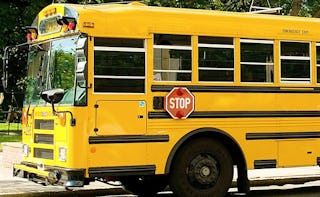 Now there's an app called Here Comes the Bus (lame name, awesome idea) that can. Created by Synovia Solutions in Indiana, Here Comes the Bus is a real-time school bus tracker that lets you view the location of your kid's bus on your smartphone, tablet or computer.
The app was developed to give parents a heads-up when their kid's bus is on the way, in the hopes that being armed with such info will cut down on the amount of time kids spend outside waiting for the bus during cold winters, heavy rain, hot sun and rush-hour traffic. An added benefit would be a decrease in the number of calls from parents when the bus is running late.
"The question is always the same," Jon King, president of Synovia Solutions, told RTV6. "My child's bus—where is it? They're standing at the bus stop, when's it going to get here? All of that, if the parent has this service, really goes away because they now can see for themselves where their child's bus is."
Roughly seven school districts in Central Indiana will have the app up and rolling by August, and Synovia Solutions says 500 school districts across the country will also have the app later this year.
Click here to check out the app or request it for your school district.
This article was originally published on