Whistleblower's Allegations Of Unnecessary Hysterectomies Being Performed On Detained Immigrants Cannot Be Ignored
by Christine Organ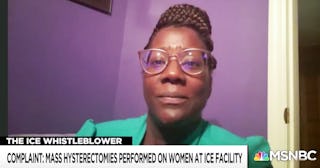 MSNBC
Each morning I wake up and ask myself, what horrors await us today? Because let's be honest, regardless of how optimistic a person's attitude, things are pretty bleak right now.
Things are downright… horrifying.
RELATED: Looking To Get Down? Here's What You Need to Know About Sex After A Hysterectomy
The latest source of horror: a whistleblower complaint alleging that hysterectomies were performed on detained immigrant women without their consent and other medical malpractice or neglect.
Courtesy of MSNBC
I'll give you a minute to collect yourself, because when I first heard about this I was so horrified I felt sick to my stomach.
But you know what? I also wasn't surprised. The abuses against immigrants are too many to count and our country has a long history of forced sterilization on Black and brown people in this country. More on all that in a minute, but first let's get into what we know so far.
Dawn Wooten, a nurse who worked at a private immigration detention center in Georgia, filed a whistleblower complaint with the Inspector General of the Department of Homeland Security (DHS), alleging that the facility's unsafe work practices led to the spread of COVID-19, that it had failed to provide medical care to detainees, and that Spanish-speaking immigrant women received hysterectomies that may have lacked informed consent.
Democrats in Congress quickly called for an investigation. 168 legislators collectively sent a letter to DHS Inspector General Joseph Cuffari urging him to investigate the allegations of mass hysterectomies.
"If true, the appalling conditions described in the whistleblower complaint – including allegations of mass hysterectomies being performed on vulnerable immigrant women – are a staggering abuse of human rights," House Speaker Nancy Pelosi said in a written statement.
The allegations center on one immigration detention center in Georgia — Irwin County Detention Center – which is run by LaSalle Corrections, a private company that operates detention facilities in three other states. The facility houses immigrants detained by Immigration and Citizenship Enforcement (ICE), and advocates have been sounding the alarm on alleged human rights violations at the facility for years.
"Ms. Wooten's whistleblowing disclosures confirm what detained immigrants have been reporting for years: gross disregard for health and safety standards, lack of medical care, and unsanitary living conditions at Irwin," said Priyanka Bhatt, a staff attorney at Project South, in a statement.
According to NPR, the complaint — which was filed on September 14, 2020 — includes the following allegations: "refusing to test detainees for COVID-19, shredding medical requests submitted by detained immigrants, fabricating medical records, allowing employees to work while symptomatic and awaiting COVID-19 test results, withholding information from detainees and employees about who has tested positive, underreporting COVID-19 cases, and allowing the transfer of detained immigrants, including those who have tested positive for the virus."
Wooten also claims she was demoted from full time employment to "as needed" after she missed work in July when she awaited results of a COVID-19 test.
Now for the truly horrifying allegations. The complaint states that a detained immigrant told Project South that she had spoken with five women at the facility who had hysterectomies late last year and they "reacted confused when explaining why they had one done."
A hysterectomy is the surgical removal of the uterus, so it is presumably not a procedure that a person enters into lightly. It is a major medical procedure that permanently alters a person's reproductive health. In other words, it is a big freaking deal.
"When I met all these women who had had surgeries, I thought this was like an experimental concentration camp," the woman told Project South. "It was like they're experimenting with our bodies."
ICE disputes the claims, and told NPR in a statement that it "vehemently disputes the implication that detainees are used for experimental medical procedures."
This should obviously go without saying but these are human beings we're talking about here. As much as Trump and this administration like to portray immigrants as criminals from "shithole countries," immigrants are people just like you and me. They want and deserve a safe, healthy, and happy life. In many cases, they come to United States as a last resort, fleeing violence or inhumane living conditions. Many immigrants detained in facilities like the one involved in this complaint are asylum seekers – and one more time for the people in the back, seeking asylum is legal.
As much as I blame Trump and his ilk for this horror show, medical abuse and mistreatment of immigrants didn't start with him. Red flags about human rights violations at immigration detention facilities ave been raised for years.
For instance, a report released by Project South in 2017 found that a facility in Georgia wasn't feeding detainees enough, was serving them spoiled food, and paying them less than $1 a day to do voluntary work to pay for more food, commissary items, and phone access, which had ridiculously expensive price tags.
NBC News reports that there were more than 1,200 sexual abuse complaints made by adult detainees between 2010 and 2017 and more than 4,500 complaints of abuse from unaccompanied children between 2014 and 2018.
"I don't think this is necessarily a systemic sterilization by ICE. I think this is the kind of thing that is allowed to flourish in the course of poor oversight and terrible, inhumane conditions of confinement," said Sarah Owings, an attorney for one of the detainees, told NBC.
This kind of abuse has gone on too long, and it is only getting worse. The systemic abuse has to stop. Immigration detention facilities should be used as an absolute last resort, not the first, and folks should be fed, housed and treated with dignity. We have to put an end to the barbaric treatment of fellow human beings. We have to.
This article was originally published on