People Are Turning White Claw Cans Into Candles And It's A Basic Must-Have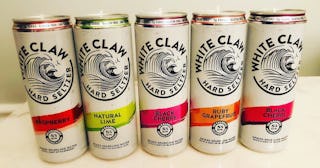 AlexandrasSoyCandles/Etsy
White Claw candles are here to make our dreams come true
If you are a lover of White Claw, get ready to lose your mind. A slew of Etsy shops are selling White Claw homemade candles, and they make for the perfect stocking stuffer, gift for your BFF, or even a treat yo'self gift. That's right, you can buy your very own candle modeled after your favorite summer (and fall, spring, and winter) drink, and it will arrive just in time for the holidays.
A bunch of craftier-than-I'll-ever-be Etsy shop owners have done the service of making the world handmade candles using recycled spiked seltzer cans and filling them with wax and a wick. Most offer a variety of scents and colors in both metal and glass (adhering a White Claw label), and they are too cute for words.
Etsy is where all your dreams come true, and it's proven itself even more so with these White Claw candles. Oasis Candle Shoppe has these adorable candles selling for $10 plus shipping. According to their page, "All items are made to order and fully customizable from the can (seltzer/beer), to the filling (candle/succulent/ flower), to the scent."
Etsy shop owners Saint LaCroix has a grapefruit soy variety available "for your millennial prayers." It's a 12-ounce candle available for $15 plus shipping and includes grapefruit scented oil.
Wayward Saints sells a glass option for $20 plus shipping, and buyers can choose from blue, green, red, yellow, and white color options. According to the site, the candles are "custom White Claw label printed on waterproof vinyl."
Alexandra's Soy Candles allows customers to pick between Lime, Ruby Grapefruit, Black Cherry, and Raspberry cans for $15 each. If you do not specify, one will be chosen at random, but honestly, that's the best kind of surprise.
This would be the perfect pairing gift set to give someone along with a Hard Seltzer advent calendar. Nothing says "Merry Christmas" like some actual hard seltzer and a nice-smelling candle to go along with it.
For those of us who panicked after the recent White Claw shortage, you know how heart-stopping it was to hear the news that we may not be able to get our mitts on our favorite year-round beverage. "We are working around the clock to increase supply given the rapid growth in consumer demand," Sanjiv Gajiwala, White Claw's senior vice president of marketing, told CNN. "White Claw has accelerated faster than anyone could have predicted." Thank goodness that fixed itself.