'The Singing Dentist' Is A Viral Sensation Because, Well - You'll See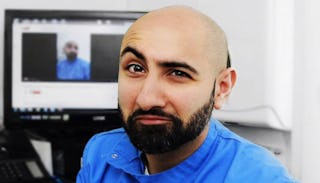 Image via Facebook/Singing Dentist
Dentist creates hysterical parody songs to encourage good oral hygiene
Getting your kids to brush and floss their teeth is a giant pain. But it's important that kids learn how to take care of their teeth from a young age, which is why we endure twice daily battles with them at the sink. Luckily the Singing Dentist is here to rescue us all from having to force our kids to floss.
Dr. Milad Shadrooh, owner of Chequers Dental in the U.K. is known online as the "Singing Dentist." He takes popular songs and re-writes the lyrics to stress the importance of flossing, brushing and taking care of your teeth. The videos are so good, it's impossible to watch only one.
Check out his version of Ed Sheeran's Shape of You where he discusses the importance of visiting the dentist along with some epic eyebrow wiggles. "Cause my job is to save your tooth, so brush and floss like you need to do. You get toothache, I'm here for you. I'm here to help everybody."
The videos have made Dr. Shadrooh's clinic so popular that he's now overbooked. But the songs were never meant to be a marketing campaign, only helpful good fun. "I did a freestyle parody last year randomly at the end of the day in my surgery and sent it to a few friends," he told The Sun. "They posted it on social media and then it started to get shared and I saw people were enjoying seeing a dentist in a different way, so I thought I could use that as a platform to educate in a fun and positive way…. that's how the Singing Dentist was born."
This take on Montell Jordan's This is How We Do It is a throwback jam that will teach your kids the perfect technique for brushing their teeth. "This is how we brush teeth!"
He also does his own fantastic version of Mark Morrison's Return of the Mack called Return Of The Plaque that will crawl in your ear and stay there for the rest of the day. "You lied to me! When you said that you'd floss every day. You lied to me! You said you try, you said you'd try!"
Dr. Shadrooh is dad to two toddlers, and with singing skills like this at home to cheer them on while brushing, you know those little ones will never have a single cavity. Here's his ode to flossing, to the tune of Happy by Pharrell Williams. "This might seem crazy what I'm 'bout to say, but as a dentist I see this every day. Patients aren't worried if their gums bleed. Don't you know this could be a sign of gum disease?"
His videos are quickly gaining in popularity, with messages coming in from all over the world from people telling him how much they enjoy his songs. He's even performed live on a couple local news shows. Still, at the end of the day Dr.Shadrooh is just a dentist, trying to make sure everyone takes care of their teeth.
"The best messages are when mums tell me that their kids are now brushing better because of my songs, or when nervous patients tell me that because of my songs, they are now going to the dentist and getting over their anxiety," he says. "That was always my plan with this and I'm chuffed that it is working!"