WHO Issues Dire Warning To Vaccinate After Measles Cases Increase 300%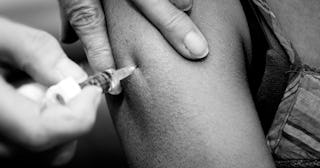 Image via Media for Medical/Getty
Over 100,000 cases of the measles have been reported worldwide since the beginning of 2019
The measles news keeps getting worse, as health organizations around the country and the world continue to urge anyone without the measles vaccine to immunize themselves and their children as soon as possible.
Two new frightening measles statistics came out on Monday morning. First, the World Health Organization (WHO) announced that there have been more than 110,000 measles cases reported around the world, surely with more cases not yet reported. That is 300 percent more cases than at this point in 2018 – and the number of measles cases has already been growing over the last few years.
"Over recent months, spikes in case numbers have also occurred in countries with high overall vaccination coverage, including the United States of America as well as Israel, Thailand and Tunisia, as the disease has spread fast among clusters of unvaccinated people," WHO said in a statement.
They continued:
"The disease is almost entirely preventable through two doses of a safe and effective vaccine. For several years, however, global coverage with the first dose of measles vaccine has stalled at 85 percent. This is still short of the 95 percent needed to prevent outbreaks,
In the United States, the Centers for Disease Control and Prevention (CDC) announced 90 new measles cases in the last week in the United States, bringing the total to 555 so far in 2019. There have now been cases reported in 20 states, including Arizona, California, Colorado, Connecticut, Florida, Georgia, Illinois, Indiana, Kentucky, Maryland, Massachusetts, Michigan, Missouri, Nevada, New Hampshire, New Jersey, New York, Oregon, Texas and Washington.
"I'm obviously very concerned about the size and also acceleration of the current outbreak," Dr. Nancy Messonier of the CDC told CNN. "This is not going to stop on its own."
Why are these outbreaks happening now, even though we have a perfectly great vaccine for the disease? Part of the answer lies in the anti-vaccination movement, which relies on social media networks and echo chambers to spread fake information about the dangers of vaccines.
"The impacts of misinformation and lack of trust have not been fully appreciated," Ogbonnaya Omenka, a public health expert, told USA Today.
https://twitter.com/jetpack/status/1117808873782632448
Measles killed an estimated 110,000 people around the globe last year, mostly children. Even in countries with the best medical support, 1 to 2 out of every 1,000 children who contracts the measles will die, and considerably more will suffer lifetime disabilities, such as hearing loss or brain damage.
One of the most frightening aspects of measles is that it is extremely contagious: someone with the measles who coughs could infect unvaccinated people who enter the same room hours later. For this reason, it's important to reach "herd immunity" of 95 percent, so that even those who can't get the vaccine for some reason (such as infants or the immunocompromised) are protected from the disease.
The United States had such high vaccination rates in past years that the measles was declared eliminated from the country in 2000 – and the only reported cases consisted of travelers from abroad who brought the ailment back into our borders. But now larger outbreaks are plaguing us again, in communities where vaccination rates are startlingly low, like in counties in New York and Washington State.
"By the time you finish reading this, we estimate that at least 40 people — most of them children — will be infected by this fast-moving, life-threatening disease," Henrietta Fore, executive director of UNICEF, and Dr. Tedros Adhanom Ghebreyesus, director general of the World Health Organization, wrote in a CNN opinion piece this morning, in which they declare it a global crisis.
They also, in addition to citing vaccine access trouble in third-world counties, cite the anti-vax issue that is fueling the spread of disease.
"In several high- and middle-income countries, from the United States to Ukraine, from France to the Philippines, there are parents who are delaying or refusing to vaccinate their children because they're unsure of the need for vaccines or that vaccines are safe," they write. "This uncertainty can be fueled by the proliferation of confusing and contradictory information online. Dishonesty and distortions about vaccines are nothing new. But in today's digital age, myths can spread as fast and far as a computer virus."
Their main point? We need to squash rumors, get everyone their shots, and stop this deadly nonsense.
"Ultimately, there is no 'debate' to be had about the profound benefits of vaccines," they write. "But children are paying the price for complacency."Seriously, this is not a drill: if you're not getting your kids their two MMR vaccines, you're part of a worldwide problem that is killing children — and showing no signs of stopping.