Whoever Invented Small Fridges Wasn't A Mom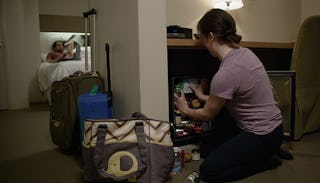 When we travel, I really need a fridge that fits a jar of jelly. It's what I know my kids will eat and not complain, and heck, I can even get behind a PB&J when I'm in the mood. But the last time I tried to swap out some goods from the minibar, it cost me more than a round of tropical drinks. So now me and my suitcase full of kids' yogurt are all about staying in Airbnb homes that have full-sized everything. Yes, I am doing a happy dance over appliances because that's how I roll.
Airbnb offers whole-home vacation rentals in family-friendly destinations all over the world. Its community marketplace provides access to millions of unique accommodations from villas to castles and tree houses in more than 65,000 cities and 191 countries.
This article was originally published on