Why I Think I'd Be OK With The 'Before'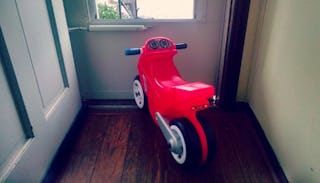 Audra Rogers
I could sit and watch flips and renovations all day on HGTV. I love seeing the transformations of houses beginning with the "before," and I can't wait to see the reveals of the "after." It's amazing what they can do. I've stared at my outdated bathroom more than once, imagining how nice it would be if those folks brought their crews over to my house so I could upgrade my old formica vanity top and tiles on the walls.
I've dreamed about how one day when we're empty nesters, we could pour money into upgrades and how nice our little 1970s ranch home could be—nice couches and clean walls, a lot less crumbs under the kitchen table.
But then I wonder. After the kids are gone, would I really want to paint over all of those scuff marks from backpacks and shoes and toys that banged against the walls by the backdoor and in the hallway? Would I want to get rid of all of the other unique characteristics that suggested kids were here. The black Sharpie marks on the yellow painted wall heater that my toddler created? Will I look back on that with fondness when he's all grown up?
Would I have the heart to tear down the homemade treehouse and swing set that would then sit empty, collecting leaves and dirt, fading in the sun? I understand why it's hard to get rid of all of their outdoor toys, the Big Wheel trikes and bubble mowers that are now collecting dust in the garage, long after picking up sticks in the yard is no longer a fun way to spend the time together on weekends.
Why we would keep the little articles of clothing they insisted on wearing all the time? The capes and costumes and the first backpacks they had that were bigger than they were when they first started school.
What about how you thought you'd really look forward to getting rid of that enormous train table, but you can still see your little ones playing there when they were little.
Little toys scattered on the living room floor eventually give way to video game controllers and cords, and even those will begin to collect dust eventually.
I might decline to fill in the holes on the mantle from the nails we used to hang Christmas stockings or throw out that old lopsided tree and dollar store decor that were their favorites growing up. And I don't know if I can hang all of their adorable handmade Christmas ornaments on a tree that doesn't lean.
Will I look upon juice-stained couch cushions with fondness? Would I instead see them more as launching pads the boys used to jump on on the living room floor?
Will I want to patch up that little hole in the wall that happened when they got a little too rowdy wrestling around?
Would I ever get around to cleaning that spot on the ceiling from that time we had a little chemical explosion while making syrup for snow cones?
Will I need extra blankets to snuggle with on the couch because my body will miss the physical closeness and warmth of their little bodies? And the millions of hugs and snuggles we gave each day?
What about the little footprints on the wall? Will I be able to part with those? Or the various holes that were dug in the yard, would I fill those in?
Will I need a reno crew in my house to bring back a little chaos after the kids are gone to help make up for the deafening silence that is sure to kick in?
If a reno crew knocks on my door (after we cross that line) and offers to do a complete, hassle-free renovation to the kitchen and bathrooms for free, I'm not saying I wouldn't consider the offer. But in the event that never happens, I think I'd be happy for a while, dragging my feet on home improvements and living life surrounded with all of the "before."
This article was originally published on