Why TV Land's 'Younger' Is a #MissedOpportunity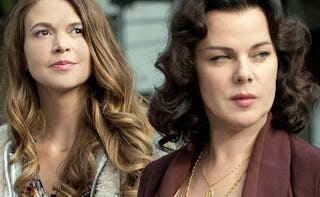 I just watched the first three episodes of TV Land's new series Younger, and they left me feeling unsettled, like one feels after eating too much greasy diner food—the kind Carrie, Samantha, Charlotte, and Miranda once consumed when they met for an all-girls brunch.
Full disclosure: I wanted to like the show, which is based on a popular novel of the same name by author Pamela Redmond Satron. I tuned in specifically for Debi Mazar, who plays lesbian gal pal Maggie opposite main protagonist Liza (Sutton Foster), a 40-year-old suddenly-single mom who passes herself off as 26 to land a job. I'd just interviewed Mazar for a magazine feature timed to promote the series, and the Queens native talked up the genius of Darren Star (creator of Sex and the City), raved about the cast, and mused about the challenges of mid-life while raising her two daughters. Mazar is good fun, and I'm a huge fan of her take-no-prisoners, cuss-like-a-sailor-Entourage-PR-agent, Shauna.
I set my DVR accordingly. I went in with high hopes.
Now, a second disclosure: Much like Foster's Liza, I'm a forty-something publishing pro who went freelance nearly eight years ago after my second child was born. I left the big city for the 'burbs and recently, when I've expressed interest in returning to the workplace full-time, I find I can't get arrested in the publishing world. No recruiter returns my calls or emails. It's not as if I stopped writing or working; I just did it from home. Could this be the reason?
And furthermore, could the younger folks be threatened? Might they sincerely believe just because I've worked mainly in print I'm incapable of switching to the dynamics of digital? I guess I'll never know. I'm not newly divorced like the show's s-hero, but enough resonates here to sting. The message is clear: Times have changed. Dinosaurs need not apply. Ouch.
So I camped on the couch to get to know Liza & friends. And I didn't like what I saw. Not that Foster isn't relatable (she is), or that Mazar doesn't work her BFF shtick with scene-stealing aplomb (she does). What turns me off, ultimately, is how simplistically cynical the show is about age, and how insulting the writers are to both twenty-somethings and forty-somethings.
The former are portrayed as stereotypically shallow millennials whose sole focus in life is what's "trending" online and how to communicate with acronyms and emojis, because "IRL" it makes them 🙂 🙂 !!!
The latter (meaning aging Gen-Xers, i.e., me) are trotted out as badly coiffed losers who are completely clueless about the Internet. (To quote Alicia Silverstone: "As if!") And don't get me started on Liza's bigwig, 43-year-old and still-single marketing boss Diana, played by Miriam Shor. I don't blame the actress, I blame Star. Shame on him for making her such an idiot. Why not model her off the female publishing execs I know—and I know a lot of 'em—who daily run circles around the kids who report to them? They didn't get where they are, or survive for as long as they have, by not staying one step ahead of what's happening.
Star makes missteps in both in his professional and personal conflicts. First, Liza should initially pass for younger—the show does need its premise, after all—but then quickly meet her mental match in her true peer Diana. Why? Because their contrasting choices—one woman leaned out while the other leaned in, just as publishing underwent a revolution—sets up plenty of topical territory to mine: the mommy wars vs. choosing to remain childless, not to mention wanting to strike a work-life balance in an ever-faster world that refuses to offer it. And if Liza's boss was savvy rather than a two-dimensional dolt, she'd sniff around the obvious and maybe confront Liza's fraud, making for some good, dishy drama: would Diana keep her secret? How would that play out?
As for the scenes with Liza's new 26-year-old love interest—a Brooklyn tattoo artist (Nico Tortorella) with killer abs and a come-hither smile that melts the panties off of every female tracking in his orbit—these, too, would be so much hotter if they were simply played honestly. As in, Liza says to her new admirer: "Listen, I need to tell you something: I'm actually 40. I know what I'm doing. You're damn cute and you're old enough. Let's go." Can you imagine how many middle-age women would cheer on that scenario? And watch to see if she eventually broke his heart?
Mostly, it bums me out that our culture's insane and growing youth obsession has degenerated into just another example of misdirected nostalgia for what went before. Viewers are asked to root for Liza to get the opportunity to live out her twenties again—even though the younger women encircling her, including her almost-bearable coworker Kelsey (Hilary Duff), are held up as insipid, subservient to the men in their lives, and prone to flashing their tits in public.
Most of us from our forty-something suburban perches might agree that our twenties were fun—yes, of course they were. We look back at them and smile. But if we're honest, we'll also admit those years were full of heartbreak, bounced checks, overdue rent, friend drama, worse boyfriends, and the stress of not knowing if our dreams would ever come true.
Let's get real. Our twenties were a mixed bag—just like our forties are. And Younger is a #missedopportunity.
This article was originally published on