Prince Harry's Great, But We Really Adore Meghan. And Here's Why.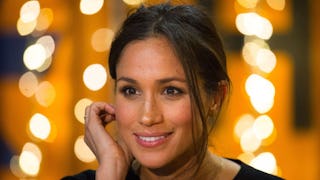 Dominic Lipinski - WPA Pool/Getty Images
I've always had a soft spot for Prince Harry. First of all, he's adorable. Secondly, he isn't afraid to have fun, probably because he doesn't have to worry about being king. He's got a million pound smile and I'm a sucker for the red hair. He's always been my favorite, which is why I was a little concerned about whether or not the poor lad would ever find true love.
Enter Meghan Markle. Although she'd been quietly dating Harry for a while, I feel like she really came online in a big way in the middle of 2017. Suddenly she was by Harry's side everywhere he went. Instead of being unimpressed like I'd been with his other girlfriends, I found myself paying attention to Meghan. She seems like a smart, caring, dog-loving potential bestie who also happens to be beautiful. She seems real.
As far as I can tell, Meghan's never tried to pretend to be anything other than who she is. She's biracial, a divorcée, three years older than her fiancé and her first name is actually Rachel. Given that up until very recently divorce wasn't permitted in the royal family and a person of color has never — not ever — married a British royal, I'd say Meghan's not afraid to be herself. Sounds like a great match for my favorite prince.
Cool, right? I'm not sure if I want to be her for the day or just hang out with her. Call it a girl crush if you must, but I think Meghan Markle is the real deal. Here are a few more reasons to love her:
She's a humanitarian.
Meghan was the Global Ambassador for World Vision Canada, traveling to both Africa and India. In fact, it was on a humanitarian trip that she first spent one-on-one time with Prince Harry. In her role as a member of the royal family, Markle will get to continue the humanitarian and philanthropic work she loves. She and Harry even chose seven different charities people can donate to in lieu of wedding gifts.
She's a feminist.
When an 11-year-old Meghan saw an ad for dish soap targeted solely at women, she didn't like it. After writing letters to First Lady Hilary Clinton, attorney Gloria Allred and the manufacturer, Meghan wound up on television saying the ad should be changed to include all people, not just women. Thus began her passion for fighting for the rights of girls and women worldwide. Her latest work was with the women's agency of the United Nations to help change gender inequities globally.
She's represents women of color.
Given Meghan is joining England's mostly white family, it's inspiring to hear her talk candidly about her experience as a biracial woman whose ethic identity isn't always clear. In a time when racism is rearing its ugly head more publicly than ever, we need women like Meghan to proudly claim their identities and change the status quo.
She's had a career.
We know her best as Rachel Zane on the USA network legal drama Suits, but did you know she's also a professional calligrapher? I know, right? Being a royal was never Markle's goal. She's more a woman who works than a lady who lunches, although I suspect she'll be lunching – and working – plenty post wedding.
She has a killer sense of style.
Meghan makes bold, personal style choices and we love her for it. From championing lesser-known brands to staying true to her laid back California roots to ditching sheer stockings with dresses, Meghan always looks just right for whatever she's doing. She can go high with an Altuzarra black and white pinstripe dress or casual with ripped Mother jeans. Just never lose the thumb rings, Meghan.
She's a foodie.
By "foodie," I don't mean she's a food snob or health nut. Meghan Markle simply loves to eat yummy food. According to Hello magazine, she never skips breakfast, adores lunch, and considers French fries their own food group. She tries to eat vegan during the week but is happy to indulge on the weekends. Plus she likes to cook for other people. I love a woman who isn't afraid of food and eats to feel good and take care of her body.
She's not Kate.
Don't get me wrong, I love the Duchess of Cambridge, but she's got to toe the royal line in a way Meghan does not. In all likelihood, Kate will one day be queen. Even in the 21stcentury, that means her behavior, dress, and opinions must follow certain protocols and expectations. Meghan, on the other hand, is more free to be exactly who she is – a kickass, philanthropic feminist with a penchant for French fries.
She knows how to keep her cool.
Being exposed to the British tabloids is not for the faint of heart. The media and inevitable haters have attacked her for being American, a social-climber, biracial and having less than perfect relationships with her dad (no longer coming to the wedding) and various half-siblings (never invited to the wedding). Through it all she's remained calm, weathering the nasty comments and asking only for "respect."
Clearly Meghan Markle is bringing her big heart, genuine self and a whole lot of cool to the royal family. I do still love Harry, but I might love Meghan just a little more.
This article was originally published on