Why Pregnant Women Deserve A Babymoon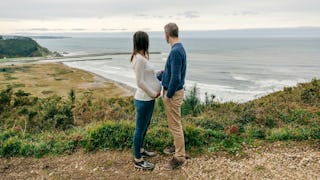 doble-d/Getty
I didn't do any of the traditional things moms do when they're pregnant. Covering myself in paper maché to commemorate my big belly didn't appeal to me. I felt gross for most of my pregnancy, so an ethereal photo shoot near the ocean or in a field of flowers wasn't happening. Basically, I was just trying to get through my pregnancy and was counting down every last second until the baby arrived.
But the one thing that I did do was go on a babymoon.
It wasn't my idea, though. Three months before my son was born, my husband gave me the gift of a few days away to celebrate my pregnancy and to celebrate our last hurrah as parents of one. We had been talking about how much things were going to change for our family when the baby arrived. From the little things like rearranging furniture to fit our son's things into our small apartment to bigger challenges like figuring out how I was going to work and take care of a baby at the same time, nothing was going to be the same again. Of course, we were excited, but also our heads were about to explode.
Thank goodness my husband had the foresight to book our getaway. We drove down to the beach where we'd spent our honeymoon years before. As we drove along the highway, I felt the weight of the past few months lifting off of me with each mile.
My pregnancy had been tough from the day I found out I was expecting. I was juggling a full-time job with freelance gigs, taking care of my daughter, and trying to maintain my own health at the same time. All of that, plus the complete overwhelm of preparing to have a new baby after an eight-year break had me nearly at my breaking point. I was surviving, but barely.
What's wild is that I didn't even realize how much pressure I was under. When I was in the thick of it, I would just put my head down and push forward without really thinking about what I was pushing through.
Have you've ever been so tired that you don't sit down because you know that if you do, you won't be able to get back up? That's what I was going through. But I needed to sit my pregnant butt down somewhere. Going away on a babymoon gave me the chance to do that.
When we got to the inn where we were staying, we checked into our room and crashed on the bed. There was a spa on the property, bikes for rent that we could ride on a lovely trail to the beach, and we even had a jacuzzi on our balcony. We didn't do any of that. We changed into our pajamas, turned on the fireplace, poured a glass of wine for him and cider for me, and then watched television and talked until we fell asleep. Over the next few days, we got to do all of that other stuff, but that first night, it was just my husband and me chilling. It was perfect.
Now that our son is here, I still look back at that getaway and think about how much fun we had. Life is so different now with two children. Getting away is a lot more difficult now. Finding someone who wants to watch two children, one of whom is a toddler, is not as easy as you might think. The more children you have, the more complicated the family schedule gets, too. Finding time for just the two of us is hard, even at home. Actually trying to go somewhere for a few days seems impossible at this point.
If my husband would have asked me if I wanted to take a babymoon, I would have said no. That's probably why he didn't ask me. I would have thought about the work that it would take to make the trip come together and vetoed the idea. We have a daughter in elementary school, and I totally felt guilty about leaving her. She was already feeling the pressure of her soon-to-be big sister role. I'd have thought it was unfair to leave her behind. She needed the break from us, though, and we needed some kid-free time to bond.
Thank goodness he didn't ask me.
I know a lot of moms like me who would turn down a last hurrah trip, too. Don't do it. Say yes. Go on the babymoon. Let your lover spoil you good one last time. Have good sex. Eat delicious food. Relax. Because when the baby is born, the honeymoon is officially over, and the real work begins.
This article was originally published on