Why You Shouldn't Freak Out About Postpartum Hair Shedding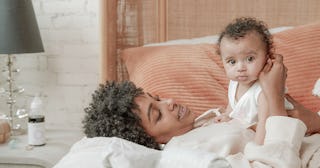 Use code SCARYMOMMY to receive $15 off your first month of subscription on Nutrafol Postpartum.**
One of the perks of pregnancy is the shiny, voluminous, salon-quality hair you get to flip around while waiting for your new human to make their big debut. And then baby gets here, and anywhere from three to five months postpartum, nature pulls one of its least cute tricks and starts making that hair shed — sometimes rapidly!
It can be distressing to see those extra strands in the brush. But here's the thing: like so many other aspects of postpartum that we don't talk about enough, it's really, really normal. According to the American College of Obstetrics and Gynecology, most women experience some level of shedding, from mild to excessive, in those first few months after giving birth. A "normal" baseline hair growth cycle means everyone loses 50-100 strands a day. But fluctuating hormones, recovery from the stress of childbirth, and some less-than-optimal self-care can alter that growth cycle. And while it can be alarming (ok, maybe even a little panic-inducing) to see your salon-quality hair deflate, there is good news. Postpartum hair thinning is temporary, and most women will regain their normal fullness by baby's first birthday. And there are changes you can make that help your body — and your hair — recover a bit more easily.
Where Did It Go?
It will come as a shock to absolutely no one that those first months with a new baby aren't exactly a breeze. Childbirth causes a drastic shift in hormones and stress levels. In addition to recovering from the physical effects of, you know, pushing out a whole human, you're also likely to be sleeping a lot less, which compromises your body's ability to recover. And your healthy, well-balanced pregnancy meals may be replaced by scarfing down whatever you can, whenever you can, leaving some nutritional gaps that also don't exactly support your comeback. Then there's the emotional upheaval of new motherhood. All of this can take a toll on you and on your hair, delaying the time hair takes to grow back and also changing its quality, making it thinner and more brittle.
Yes, We're Going To Say It Again: Self-Care
So, what can you do? Well, we've all heard it, but it's really true that self-care is absolutely essential. When you have a new baby, it's normal to focus primarily on their needs. Nature literally programs us that way. But you have to take steps to take care of yourself, even in small ways. Newborns aren't exactly known for increasing the quality of their parents' sleep, but it is possible to practice good sleep hygiene by resisting the temptation to scroll on your phone at night before sleep. A gentle-to-moderate exercise routine, a well-balanced diet, and staying hydrated can also help minimize the effects of postpartum hair loss and support overall recovery. Oh, and eat a vegetable here and there.
It may also be time to consider a supplement to help with postpartum hair shedding. Nutrafol Postpartum is an OBGYN-developed, natural hair supplement that helps the body recover from the stress of childbirth and fills nutritional gaps during this transition.* It supports better hair growth by targeting multiple root causes of postpartum hair thinning. Nutrafol Postpartum is also made with clinically tested ingredients traditionally used during lactation and is breastfeeding friendly. It's also 100% drug-free and compatible with most postnatals and multivitamins, so it can be taken immediately after birth.
It's important that your hair and body get the nourishment they need most right now. Ingredients like omega-3s to support physical stress and immune response; collagen for additional protein (great for stronger-growing hair); shatavari to counter stress hormones, and theanine, a calming amino acid that promotes relaxation.1-5 Nutrafol Postpartum has all of these and then some.
When Is It Coming Back?
Normally, the hair growth cycle resets after 6-15 months, but Nutrafol Postpartum was formulated to support recovery through this transition for better hair growth with natural ingredients. These natural ingredients address and manage underlying imbalances in the body during the first three months postpartum and beyond. Remember: this is temporary. Everyone's hair growth journey is different, but most moms regain their normal fullness by the one-year mark.
Postpartum hair thinning may be common, but that doesn't make it any less frustrating. Along with navigating the endless responsibilities of being the mom of a newborn, it's downright unfair that we have to deal with this, too. But despite its challenges, the transition from pregnancy to motherhood is pretty incredible. Keep your (shedding) head up, knowing you've got this.
Nutrafol is the first-ever OBGYN-developed natural hair supplement, designed to support better hair growth and fill nutritional gaps as your body recovers from the stress of childbirth. Use promo code SCARYMOMMY to receive $15 off your first month of subscription at Nutrafol.com.**
*These statements have not been evaluated by the Food and Drug Administration. This product is not intended to diagnose, treat, cure, or prevent any disease. Results may vary.
**New customers only. Subscription only. Limit one per customer. Not combinable with other offers. Offer valid for 30 days only.
1 Zhang, M. Trad Psych. 2020. 2 Wlodarczyk, M. Int J of Biological Macromolecules. 2017. 3 Strand, P. J of Cell Science. 2011. 4 Hidese, S. Nutrients. 2019. 5 Pandey, A. Bio Med & Pharm. 2018.
This article was originally published on