8 Ways My Husband's Death Has Affected My 'Kiddows'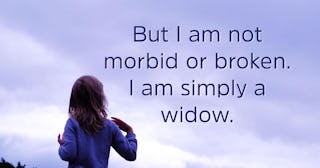 Scary Mommy and Jens/StockSnap
My sense of humor skews slightly dark. I always cackle a little too loudly at shows like Netflix's Dead To Me. Sometimes I silently add the words "unless he dies" to a meme about love and forever. Often I have to double check with someone who is not widowed whether a photo or a sentence I want to write is appropriate, or whether it's tipped into the sphere of more macabre than not.
But I am not morbid or broken. I am simply a widow.
My humor and sensibilities and perceptions are shaped by the days watching my husband slowly disappear to a disease that stole his mind and his smile and his breath, by the days living a life grounded in the fact that someone I love died.
The sign outside the fort my children created out of blankets and pillows in the living room has the words "Caution: Death" scrawled in black marker. My children don't hesitate to remind me, without stumbling over their words, that they know one day I will die, because one day we all will die. A few times a year they spend an afternoon at a cemetery and they play tag and hide and seek and giggle in the empty field beside the memorial stones.
But they are not morbid. They are not broken. They are kiddows.
Their humor and sensibilities and perceptions are shaped by the days watching their father slowly disappear to a disease that stole his laughter and his joy and his charm, by a tragedy they never should have known.
Sometimes, when other adults hear the way my kiddows approach death—with a frankness that can even take my breath away—they look at me, unsure of how to respond. The look they send my way is a blend of "are they okay?" and "should you be worried?" All I can do is shake my head, to promise—without words—that their blunt truth isn't a problem, their stark words don't need fixing. They are strengths for reasons I'm only beginning to understand.
1. They aren't afraid of the truth that death is an inevitable part of life.
For most of us—me included—death, especially death that comes out of the natural order—is something that happens to other people, in other stories. I pretend I'm immune, and that the people I love are immune. But kiddows don't. They know death is inevitable. They know, and choose to live fully, anyway.
2. They understand that grief cannot be cured or fixed.
Because they know loss, because they have lived with grief and have seen illness and stood at a podium as their father lay motionless in a closed casket behind them, they know that all they need to do when a friend is hurting is show up and not disappear when it gets too hard.
3. They know the world is out of their control.
They have stood at the very edge of a hurricane and wished for the wind to stop blowing and the rain to stop pounding and learned that wishing simply isn't enough. They have chosen, day after day, to continue moving forward in a world they cannot control, and sometimes that bravery feels unmatched.
4. They've learned to identify (not perfectly, not even with complete accuracy) that sometimes their actions and choices are influenced by their emotions.
They've learned sometimes they feel sadness in their stomachs and anger in their fists, and with that awareness, they've begun to learn to let their feelings exist without dominating their lives; they've learned to find grace for the sadness and also for the hope. Like everyone, the journey they are on to understand their own hearts will last a lifetime, but they have a head start.
5. They aren't afraid to ask for help when the emotions are too big for them to understand and sit with alone.
They aren't afraid to say, I don't know how to unravel all my heartache and I need a place and space that is mine alone. They aren't afraid of therapy.
6. They are fearless in their curiosity.
They will ask the hard questions of all the adults in their lives and then wait patiently for the answer. Teachers, aunts, uncles have all been left wondering how to answer the hard questions, questions that sometimes can only be answered, truthfully, with an "I don't know."
7. They know to appreciate little things.
I'm often called away from a sink full of dirty dishes or a hamper full of laundry to look at a brightly colored bird sitting on a tree, or shade of sky during the sunset, or a butterfly on a petal.
8. They know death is permanent but so is love.
They understand that love is the single greatest gift you can give someone in life, and the only gift that cannot be damaged or tarnished or lost after death.
I am a widow and my kids are kiddows. They are informed by their loss, by the darkness through which they have walked at young ages. They have an empathy and understanding and maturity about death that might always make others uncomfortable, but they are not morbid or broken. They are simply forever shaped by tragedy, by their grief; forever be bolstered by their truths.
Because they are kiddows.
This article was originally published on