Wildfire Smoke From The West Has Traveled Thousands Of Miles To NY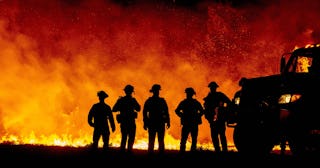 JOSH EDELSON/AFP/Getty
Smoke from the West Coast wildfires has blown thousands of miles east, even reaching New York
Every year wildfires rage in the western states, including California, Oregon, and Washington. However, this year the fires are significantly worse than others on record, resulting in the loss of at least 35 lives, 4.6 million acres, and numerous homes and structures. In addition to the physical damage the fires have caused, smoke is also polluting the air, even traveling thousands and thousands of miles across to the east coast, according to a new report.
CNN reports that two large swaths of smoke have swept to the east — one across the upper western US to Michigan and the Great Lakes region and over to Rochester, New York, while the other, across the southwest through Missouri, Illinois and Kentucky, and into the Mid-Atlantic region, according to the National Oceanic and Atmospheric Administration's Office of Satellite and Product Operations. The smoke has even traveled out of the country into Canada, making it to Toronto and Ottawa as well as Vancouver and northeast to Calgary in Western Canada.
While air quality is considered hazardous in many areas of California, Oregon, and Washington, according to AirNow, luckily it hasn't impacted the quality in most of the regions it has traveled.
According to the National Interagency Fire Center, there are 87 large wildfires actively burning in 10 states — and they continue to rage. "Fundamentally the science is very, very simple," said Philip B. Duffy, a climate scientist who is president of the Woodwell Climate Research Center, told the New York Times. "Warmer and drier conditions create drier fuel. What would have been a fire easily extinguished now just grows very quickly and becomes out of control."
California has experienced the worst of it with already 3 million acres burned. California's oldest state park, Big Basin Redwoods State Park, has sustained serious damage, consuming the majority of the park's historic facilities. The El Dorado wildfire in Southern California's San Bernardino County has garnered quite a bit of attention, due to the fact it was started by a gender reveal party gone awry. According to fire officials, they obtained a video of a family walking into a field of dry grass while another person lit a "smoke-generating pyrotechnic device" to announce the gender of their child. However, the grass around the device caught fire, and the family was unable to put out the fire with water bottles.
In Oregon, entire towns have been wiped out."We expect to see a great deal of loss, both in structures and in human lives," Gov. Kate Brown of Oregon said, per the New York Times. "This could be the greatest loss of human lives and property due to wildfire in our state's history."
This article was originally published on